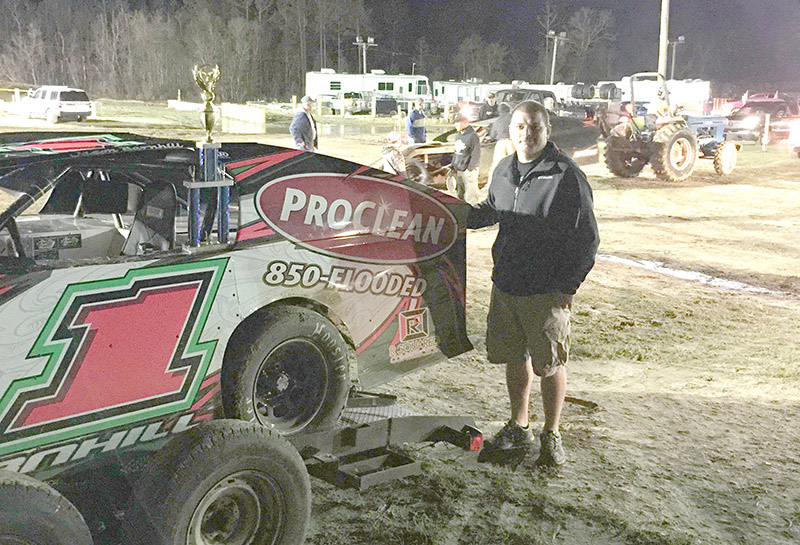 BAKER, Fla. (April 2) – Jason Barnhill had to feel good about the finish of Saturday's Bay Area Emerald Coast Tour main event at Northwest Florida Speedway, as a driver as well as a car owner.
The defending Xtreme Motor Sports IMCA Modified series champion passed teammate Jamie Brooks, who was also driving a Barnhill-owned ride, on the fifth lap and led to the finish of the caution-slowed feature at Baker.
Brooks had started inside Barnhill on the front row and surrendered the front spot in traffic. Greg Hopkins pressured Barnhill the last two circuits before getting too high on the final turn and falling out of contention.
"We had a good side-by-side race the last few laps," Barnhill said. "I'd broke leading my last timeout so it was nice to win this one."
Thumper Grice, Jimmy McDaniel and Hopkins completed the top five.
Feature results – 1. Jason Barnhill; 2. Jamie Brooks; 3. Thumper Grice; 4. Jimmy McDaniel; 5. Greg Hopkins; 6. Duane Lewis; 7. Jason Lockwood; 8. Scott Sessions; 9. Kyle Rutkoski; 10. Josh Goodwin; 11. Michael Rogers; 12. Pebo Rogers.