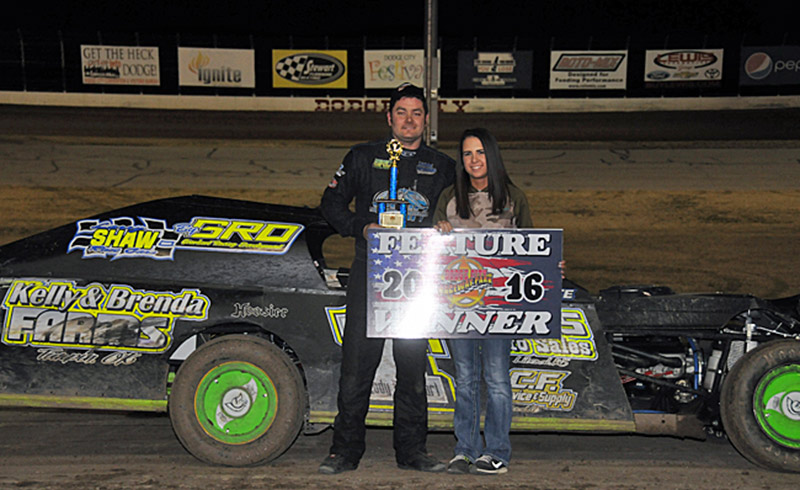 By Lonnie Wheatley
DODGE CITY, Kan. (April 2) – Cody Gearhart squeezed by race-long leader Beau Davis on the 17th circuit to capture his first local Xtreme Motor Sports IMCA Modified victory since June of 2013, on opening night at Dodge City Raceway Park.
"That really was a tale of two races," Gearhart said in victory lane after the 20-lapper.  "I was getting passed at one point, then things all worked out."
Gearhart spent the early portion of the race chasing Davis, who gunned into the lead from the front row outside.
Gearhart briefly fell back a spot when William Nusser battled by to claim second at the midway point. Nusser looped it the next time around in turn four, collecting fourth-runner Cole Traugott in the process.
Back up to second, Gearhart kept the pressure on Davis and capitalized when the leader bobbled in turns thee and four on the 16th lap. With the bobble, Gearhart was able to pull alongside and then motored ahead through turns one and two.
Gearhart took the checkered flag ahead of Nick Link, who edged Davis at the line for runner-up honors. Ryan Heger and 13th-starter Brendon Gemmill rounded out the top five.
Dakota Sproul took IMCA SportMod honors in the closing stages, Tyler Tipton topped the IMCA Sunoco Stock Cars and Iowan Shannon Anderson bested the IMCA Sunoco Hobby Stocks.