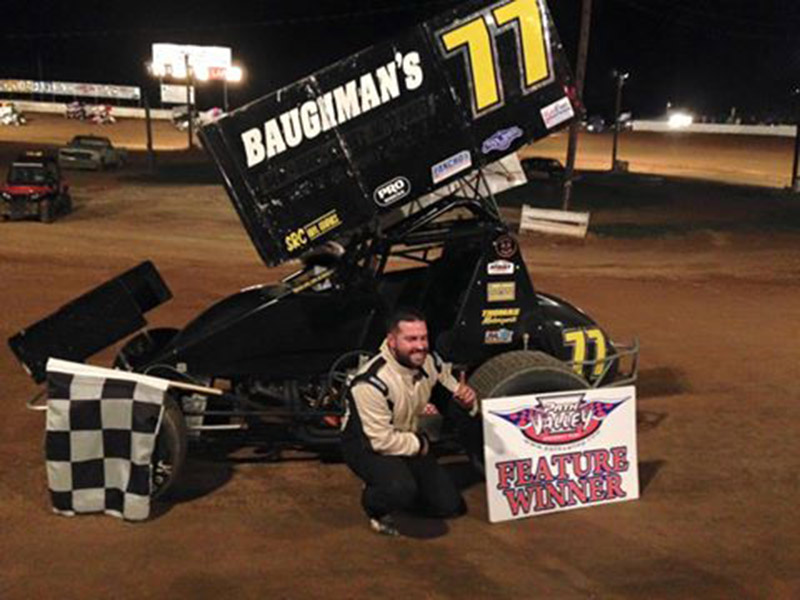 SPRING RUN, Pa. (March 26) – Andrew Hake ran an excellent race Saturday night, picking up the Pennsylvania Sprint Series season opener at Path Valley Speedway Park in a 10-year-old car with a motor his dad built.
It was Hake's career first IMCA EMI RaceSaver Sprint Car victory.
Hake took the early lead and survived numerous caution flags, holding off some strong contenders. Mark Watkins, who has won numerous races at Path Valley, and Zach Newlin, the 2015 PASS champ were close behind.
Watkins got a look under Hake on several occasions but Hake never faltered and Watkins was forced to settle for second.
Dale Schweikart made it interesting with yet another good run at Path Valley closing in on the leaders in the final laps and pulling into contention in the final laps for third. Dave Brown came from deep in the field to finish fourth while Newlin held on for a fifth place finish.
Twenty-one cars were on hand for the chilly season opener and the extensive work on the speedway over the winter paid off as the track was in excellent shape.
The series moves on to Port Royal next week.
Feature results – 
1. Andrew Hake; 2. Mark Watkins; 3. Dale Schweikart;4. Dave Brown; 5. Zach Newlin; 6. Cale Reigle; 7. Kyle Lloyd; 8. Austin Burke; 9. Scott Lutz; 10. Kyle Ganoe; 11. Dave Grube; 12. Dave Guss Jr.; 13 Marcus Defreitas; 14. Brad Mellott; 15. Dave Graber; 16. Jeff Taylor; 17. Cody Hackenberry; 18. Jim Kennedy; 19. Ron Aurand; 20. Drew Ritchey; 21. Colt Lepley.