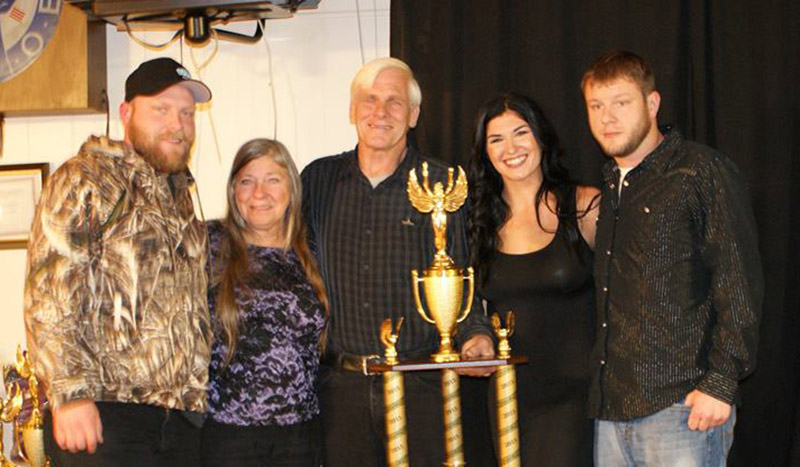 By Ben Deatherage
JASPER, Ore. ­– When it comes to the Karl Chevrolet Northern SportMods in 2015, Gene Ashley seemed to have the IMCA division all figured out. The veteran racer out of Jasper collected his first career championship in the class at Cottage Grove Speedway.
"The biggest thing is, I couldn't have done this without Eric (his youngest son)," commented Ash­ley. "He put this car together for me and when I blew my motor in the middle of the year he gave me his so I could finish it out."
Ashley's driving career started at the young age of 16 in 1970, running demolition derbies at the now-defunct Eugene Speedway, before eventually venturing to CGS in the mid-1970s. He fin­ished as runner-up a few times but never won a title until the age of 61.
"I've really enjoyed racing but what I think I love the most is watching my kids (Ricky and Eric) race," he continued, "and to actually race against them over the years, I thought that would never happen."
Ashley collected five victories over the season which led the division. Those triumphs came on April 18, May 16, May 23, July 4 and Sept. 5. He posted 11 top fives in his Ashley Family Rac­ing/A-1 Auto Supply/Furniture Options no. 85 entry. His worst finish was fifth, which he placed on three occasions.
"I'm not sure what we're going to do in 2016," he said. "I kind of want to go back and watch the kids racing again. I really enjoy that."
What is for certain is that both of his sons intend to race quite often in 2016. Ricky will compete in the sprint car ranks full-time while Eric will be a regular in the Xtreme Motor Sports IMCA Modi­fied division. No doubt whatever Gene does, he will be accompanied by his lovely wife and num­ber one fan Brenda.