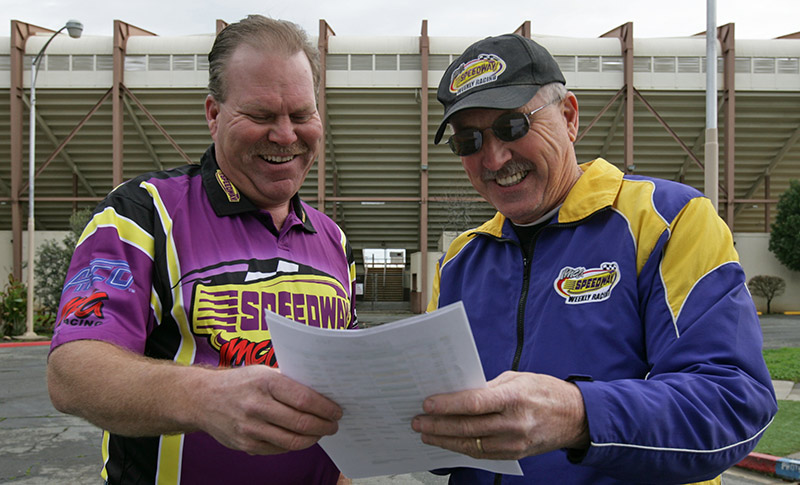 MERCED, Calif. – Ed Parker now carries the keys to the track he's already been going to forever.
The long-time fan and former driver and owner is the new promoter of Merced Speedway. Both Xtreme Motor Sports Modifieds and Karl Chevrolet Northern SportMods will run Saturdays at the 1/3-mile clay oval beginning April 2.
"I want to get my feet wet, get some races in and make this a great place for the racers," said Parker, who took charge at Merced in February. "Right now, everything is baby steps. We are focused on getting our weekly program up and running."
Doug Williams has been hired as race director and Tim Ragsdale, who used to drive for Parker, will do the track prep.
"We have a lot of experienced drivers in our Modified division and hope to pull some big-name drivers from California here," said Parker, also expecting an influx of local racers who haven't competed regularly in the past three or four seasons.
Along with promoting Merced drivers in the local newspaper, he's made plans for a Legends of Merced and Wall of Fame to honor the local dirt track heroes.
"I started as a fan in the stands and when I saw that little truck class (4-cylinder rear-wheel drive pickups), I told myself I could do that. I've been coming here forever," said Parker, owner of the 2007 track champion truck and father of local hobby stock driver Cody. "This seems like a natural progression. It was something I wanted to do five years ago."
His accountant advised against buying Merced then. Parker, who lives seven miles from the track, wasn't to be denied when he had a second opportunity.
"I jumped into this with both feet. I know it's a lot of work, especially the first season," he said. At the end of the year we're going to put in new drainage, work on the racing surface and make our concessions better than the next guy's."
Cameras in all four corners, so fans in line at the concession stand can keep up with what's happening on track, are also among those future plans.
Parker plans to make Merced a multi-use facility, hosting events such as flat track motorcycle races and possibly tractor pulls.
Test and tune sessions are scheduled March 19 and 26. The local track point season will continue through Sept. 24.