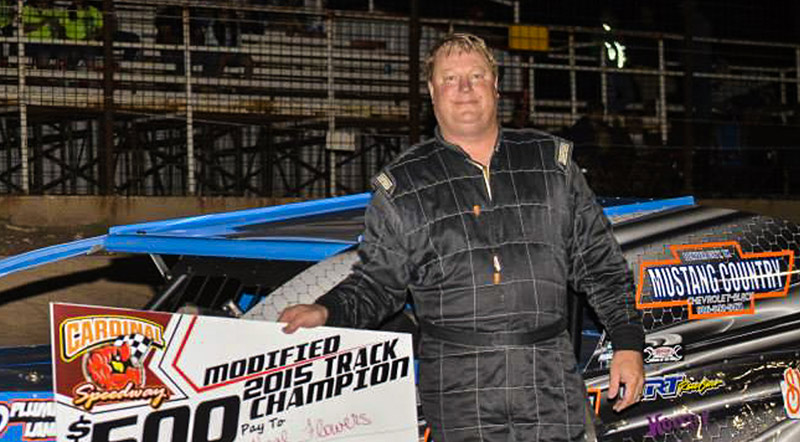 HOBBS, N.M. – Neal Flowers isn't just good at the game of Cardinal Speedway track championship trivia.
He's the answer to a lot of the questions.
Flowers won his career 10th Xtreme Motor Sports IMCA Modified track title at the Eunice, N.M., speedplant in 2015. He's the latest in just a handful of IMCA drivers to earn double-digit crowns, in one or multiple divisions, at the same track.
"I'm sure winning the first one was tough but winning the last one was harder," said Flowers, from Hobbs and a month removed from his 48th birthday. "Winning track championships gets tougher every year but it's more satisfying knowing you can still do it. We've got a lot of young guys around here and they're good drivers."
Flowers' family owned the Lea County Speedbowl in Hobbs. He's raced in one division or another every season but one since 1985, starting in a local street stock class at Roadrunner Speedway and buying his first Modified in the early 1990s.
"They were really just getting started in this area and four or five of us guys got 'em," Flowers said. "I'd been running a stock car and I liked the open wheel. It was different."
His first of 12 career track championships in the sanctioned class came in 1999 at Midessa Speedway.
Flowers topped points at both Cardinal and Lubbock Motor Speedway in 2001. He's since added the post-season hardware from Cardinal in 2002-2004, 2006 and 2011-2015 and is only nine checkers away from joining IMCA's 100-feature win club.
"Cardinal is about half an hour away from home. They've changed the configuration at least three different times over the years but it still has good banking to it," said Flowers, the defending Kelly Sheen Memorial winner. "I just took a liking to Cardinal and it seems like we've always had good luck here."
Flowers' regular traveling crew includes his wife Susan and daughters Jensen, 18, and Jalie, 12. He's enjoyed sponsorship by Mustang Country Chevrolet of Denver City, Texas, for most of his Modified career.
"I've probably got another five or six years in me but who knows? A lot will depend on what tracks are open," he said. "I don't know that I've had what you'd call a career highlight. I've had a lot of good times, raced with a lot of good friends and raced with a lot of good competitors. Every time you win is the best moment."