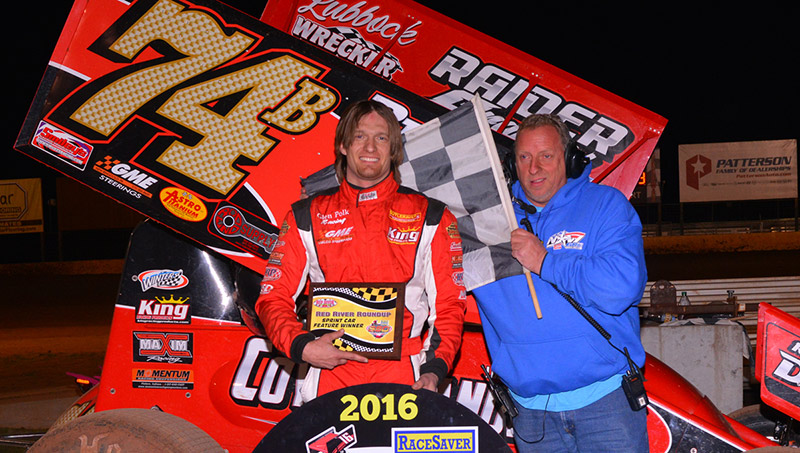 WICHITA FALLS, Texas ­(March 4-5) –­ John Carney was late getting to the track Friday night, and that was the only time he was late getting anywhere during the March 4-5 Red River Roundup.
Carney won both IMCA EMI RaceSaver Sprint Car features during the opening weekend for the new Sprint Series of Oklahoma at Red River Speedway, earning $700 on Friday and $1,000 on Saturday.
The sweep gave him 14 straight RaceSaver feature wins, including last September's Sprint Car Nationals.
"I had a great car both nights. I could go anywhere on the track with it and that was thanks to my crew," noted Carney, driver of the Coyote Candle Company ride.
After missing the draw and racing from ninth to second in his heat, Carney's Friday checkers came from 14th starting in the main event. He was on time Saturday and won his heat, then started outside the front row and led all 25 laps.
Tim Crawley, Justin Melton, Zane Lawrence and Joe Wood Jr. completed the opening night top five. Jake Bubak, Andy Shouse, Wood and Crawley were second through fifth, respectively, on Saturday.
Carney was up to seventh in just two laps on opening night, making use of the lower line while much of the rest of the field opted for the high side, and was running second when the seventh circuit was scored. A lapped car came into play when he passed Crawley for the lead around midway.
"Tim ran the top side. I knew I'd have to pass him low so I started running the top in (turns) one and two and the bottom in three and four," Carney said. "He came up on a lapped car and didn't have quite the momentum. I had a full head of steam and was able to pass them both."
The green flag stayed out for the first 20 circuits on Saturday. Two lapped cars separated Carney and Bubak before the caution waved with five to go.
"After the restart I just concentrated on hitting my marks," he said. "I was pretty sure no one would be able to catch me."
Feature Results
March 4 – 1. John Carney II; 2. Tim Crawley; 3. Justin Melton; 4. Zane Lawrence; 5. Joe Wood Jr.; 6. Jake Bubak; 7. Andy Shouse; 8. Jake Martens; 9. C.J. Hulsey; 10. David Wilsey; 11. Logan Scherb; 12. T.J. Homkamp; 13. T. J. Michael; 14. Zack Blurton; 15. Brandon Long; 16. Sterling Hoff; 17. Michelle Melton; 18. Joey Starnes; 19. Martin Edwards; 20. John Kelley; 21. Chase Parson.
March 5 – 1. Carney; 2. Bubak; 3. Shouse; 4. Wood; 5. Crawley; 6. Justin Melton; 7. Hulsey; 8. Martens; 9. Lawrence; 10. Michelle Melton; 11. Ryan Hall; 12. Scherb; 13. Ty Williams; 14. Taylor Velazquez; 15. Tucker Doughty; 16. Blurton; 17. Chance McCrary; 18. Kaden Taylor; 19. Blake Davis; 20. Long.