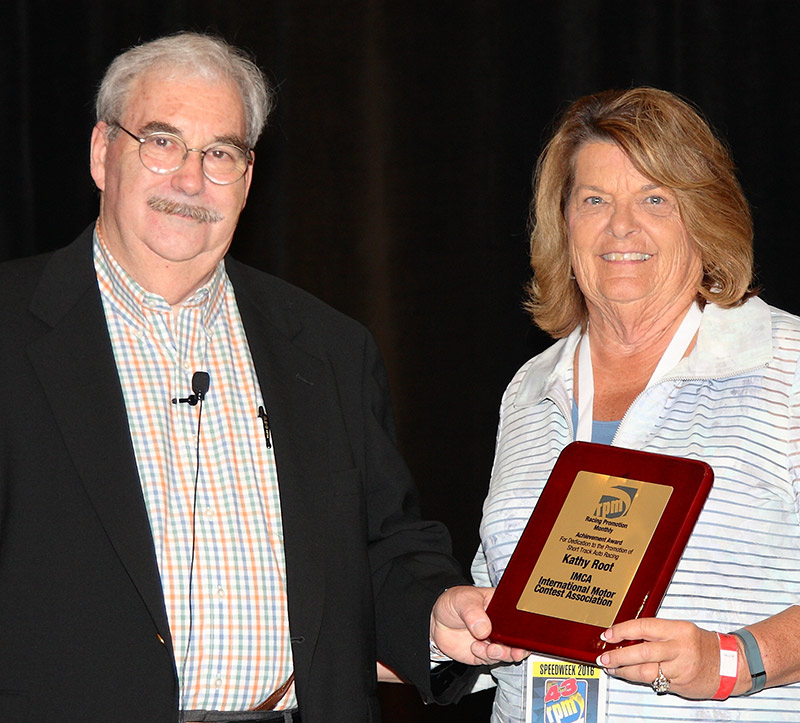 DAYTONA BEACH, Fla. (Feb. 16) – The automotive racing world recognized one of its most accomplished members.
Kathy Root, retired owner and president of IMCA and now chair of the sanctioning body's executive committee received an achievement award, citing her dedication to short track auto racing, during the Racing Promotion Monthly workshops in Daytona Beach, Fla.
"I enjoyed watching the growth of IMCA and knowing we were having a favorable impact on the racing industry," said Root, the first full-time employee hired by Keith Knaack nearly 40 years ago. "I think Keith's original goal when he developed the Modified was to keep racing an affordable hobby and we've always done our best to keep it that way."
"I've also enjoyed the friendships I've made and the people I've met," she added. "There's been a good bit of that."
Named president in 1990, Root guided IMCA through a sustained period of growth that continues into the organization's 101st season.
IMCA remains headquartered in Root's hometown of Vinton and will see more than 9,000 drivers compete at sanctioned events in eight divisions in 30-plus states and Canada in 2016. The IMCA Speedway Motors Super Nationals fueled by Casey's, the biggest dirt track racing event in the world, will bring nearly 900 of those drivers to Boone Speedway in September.
A pioneer for women in the industry, Root traveled to tracks in many of those states and noted that while not everyone always agreed with IMCA's rules, she was always treated with respect.
"As IMCA grew, we were able to hire more employees and I traveled less. My main job became more administrative and less hands-on and in the field," Root said. "I missed that and I still do. We have an excellent staff and they are responsible for much of our growth."
Her son Brett was named president of IMCA in January of 2015.
"I don't think enough people realize how important Kathy has been to the industry.  She came to the sport as a production artist for a race paper and became the owner of America's oldest, largest short track sanctioning body, which celebrated 100 years last season," said RPM Editor Stewart Doty. "She's passing the torch to Brett and we want to thank Kathy for what she has done and wish her well."