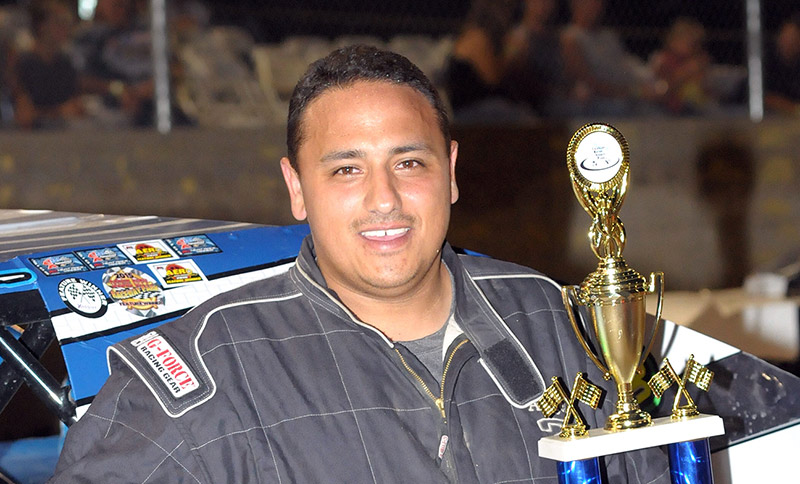 LAMAR, Colo. ­– Angel Munoz has had his hands full doing more than getting his own car ready for the new season.
He's got an entire race track to run in 2016.
A veteran of four IMCA divisions, Munoz is the new promoter at his hometown Lamar Speedway. It's a role he never envisioned for himself but one he took on to help ensure the 1/3-mile clay venue stayed viable for a new generation of drivers.
"Being a racer, there are times when you get upset at a promoter and think you could do it, too," he said. "Between running my little trucking business, doing all the paperwork for IMCA and being in charge of the 2015 banquet, it's been a little overwhelming."
"But I've been to tons and tons of tracks around the country. I've seen a lot of good and I've seen some bad," Munoz added. "I want to bring the good back to Lamar."
Guardrail sections have already been straightened and support posts replaced. New grandstand seating and light poles will also be in place for opening night April 29, with much of the work done by Munoz, his fellow Lamar Race Club members and other volunteers from the local racing community.
"We have a good group of volunteers willing to ride this out with me," he said. "I hope if get to race between our events but I'm not worried about getting to do it. Getting this track going and rolling good is my main concern."
Ten race dates are scheduled this season at Lamar, including three weekend doubleheaders, for Xtreme Motor Sports IMCA Modifieds, IMCA Sunoco Stock Cars, IMCA Sunoco Hobby Stocks and Karl Chevrolet Northern SportMods.
Those are the same four IMCA divisions Munoz has raced in and he's looking to build car counts in each. That's a goal shared by the Colorado Alliance Tour, which makes a couple visits this season to Lamar.
Munoz owns a pair of IMCA track titles at Lamar, in the Hobby Stock division in 2011 and last year in the Northern SportMods.
He had more post-point season success in a Stock Car, winning RPM Speedway's Fall Nationals – and $3,000 – and then the night two main event at Thunder Hill Speedway's Thunder on the Hill on back-to-back weekends in October.
"We had a good year in the Northern SportMod but that class just isn't my cup of tea," Munoz said. "I picked up a new B & B Chassis at Super Nationals in September and won four of five starts."
First on his personal race schedule for 2016 is the Red River Roundup at Red River Speedway in Wichita Falls, Texas, in early March. Munoz will then travel east for the Iowa Frostbuster specials.
"I'm excited to go and learn at the Frostbusters," he said. "This B & B car is nice. I don't know if I can win but I think I can run with 'em there."
Munoz also plans to follow the Kupper Chevrolet Dakota Classic Tour in July and return to the IMCA Speedway Motors Super Nationals fueled by Casey's in September.
His father Guillermo had started racing at Lamar in 1985, the year Munoz was born, and Angel got his start in the sport in a local 4-cylinder class.
"Once I got hooked I got hooked," Munoz said. "I was young and dumb as a teenager. I drove 200 miles to race with a flatbed trailer and a toolbox. I got my butt kicked but that taught me how to do more with less. When I was able to get sponsors I got better equipment and I've won my share of races and track championships."
"I've got to say that going on 16 years of racing, I've been pretty fortunate," he added. "I've had a lot of good people and a lot of mentors behind me."
Munoz will be a racing mentor for seven-year-old son Tate, who will pilot a junior sprint this season. Daughter Jada is just 16 months old so the start of her racing career is a few seasons in the future.
Munoz is sponsored by Ron Austin Repair Shop, Ace Tire Service, JRJ Trucking and Munoz Trucking, all of Lamar; Bussell Farms of Imperial, Neb.; FX Suspensions of Phillips, Neb.; Sample Racing Transmissions of Hastings, Neb.; Schaeffer Racing Oil of Farmington, N.M.; Randy Stegman of Laramie, Wyo.; Nielsen Enterprises of Laverne, Okla.; Sybesma Graphics of Sanborn, Iowa; Mike Nichols Racing of Harlan, Iowa; Bassett Racing Wheel of Burlington, Wis.; and B & B Racing Chassis of Belle Plaine, Minn.