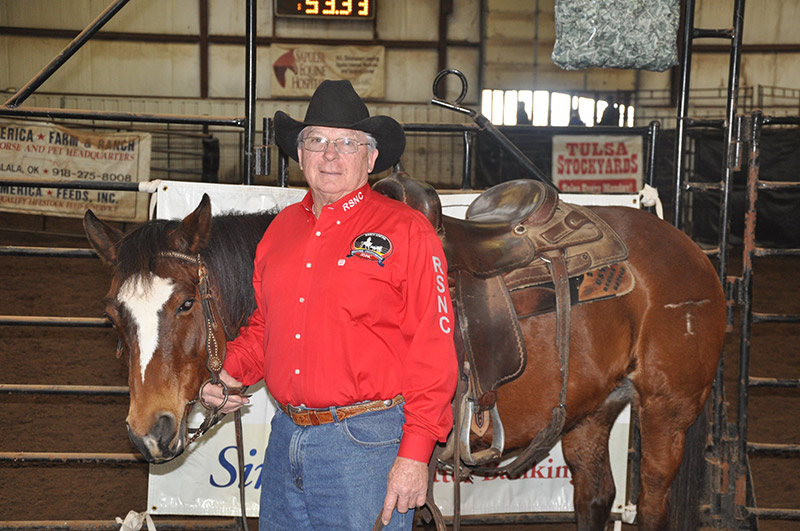 PONCA CITY, Okla. – A driver who won an Allstar Performance state championship last season has already saddled up to win another state title this year.
Van Gemmill became the oldest Xtreme Motor Sports IMCA Modified driver to win a state crown at the age of 70, when he came out on top of the 2015 Oklahoma standings.
Gemmill and Mo, a 19-year-old mare with press clippings of her own, were half of the team that topped the masters' class at the Jan. 16-17 Ranch Sorting National Championship State Finals in Tulsa, Okla.
Ranch sorting features two riders separating cattle in a designated numerical order from two pens and in a time period determined by the riders' skill levels. Gemmill helped found the RSNC, the sport's governing body, 10 years ago and made comparisons to IMCA.
"I tell everybody all the time that racing would be non-existent if it wasn't for IMCA. They make it possible for average guys to be able to afford to race," he said. "I tried to take that same philosophy to ranch sorting with low entry fees and a fair payout. We wanted to keep the sport affordable so everybody could play."
More than 20,000 RSNC members from across the United States and internationally currently compete in nine categories ranging from beginner to professional. Sponsorship has been emphasized ­– another parallel with IMCA ­– and there's a long-range goal of increasing membership to 100,000.
Gemmill grew up working cattle and once rode at 40-45 ranch sorting shows a year. From Ponca City, Okla., he'll compete at about 10 shows before turning his attention back to dirt track racing in the spring.
His son Troy, grandson Brendon and Brendon's wife Casey Jo also race IMCA Modifieds. Troy and Brendon were occasional foes during Van's march to the 2015 Oklahoma state crown.
"It's awesome getting to race with them. I push harder racing against Troy and Brendon and I think they push harder racing against me. It's not about bragging rights, that's just the way it is," Gemmill said. "I ran 1-2 with Troy and 1-2 with Brendon but we have never been able to pull off a 1-2-3 finish."
The winner in 10 of his 49 starts last year, Gemmill was largely self-sponsored and enjoyed a month-long stay at the top of the Jet Racing Central Region standings before ending in fifth. He was second in points at Elk City Speedway, fourth at Outlaw Motor Speedway and Tri-State Speedway, and sixth at Longdale Speedway despite taking a couple weekends off to attend family functions.
"Brendon called at one point in the season and told me I was leading the region," said Gemmill, who hadn't been paying attention to point standings up to that time. "Running for the state championship wasn't intended, it just happened."
"Age doesn't have to be a controlling factor. I know my reflexes aren't what they used to be but I have other resources. Because I'm retired, for example, I can spend more time in the shop getting the car (a Skyrocket) ready," he added. "I believe all of us can accomplish what we want to. Our limitations are self-imposed."
Gemmill started racing in 1967 and piloted a '51 Hudson Hornet Twin H to 36 straight checkers on the Kansas circuit the next season. Troy was actually the first Modified driver in the family as Van made the move to the open wheeled class after collecting 500-plus late model victories.
"It was on a Father's Day when Troy called me from the track and asked me to come help," he said. "When I got to WaKeeney, they handed me a helmet and driver's suit and told me to get in his backup car. When the night was over, I said 'Let's build another one.'"
He took several sabbaticals from racing to focus on his job with the Kirby Vacuum Cleaner company. Gemmill started as a door-to-door salesman and worked his way up to supervisor and factory consultant, retiring at the end of a 33-year career.
After turning over Ranch Sorting National Championship responsibilities to partner Dave Wolf, he's had more time to enjoy with family. Gemmill and frequent sorting partner Jeannine have been married "forever and ever" and will celebrate their next wedding anniversary in December.