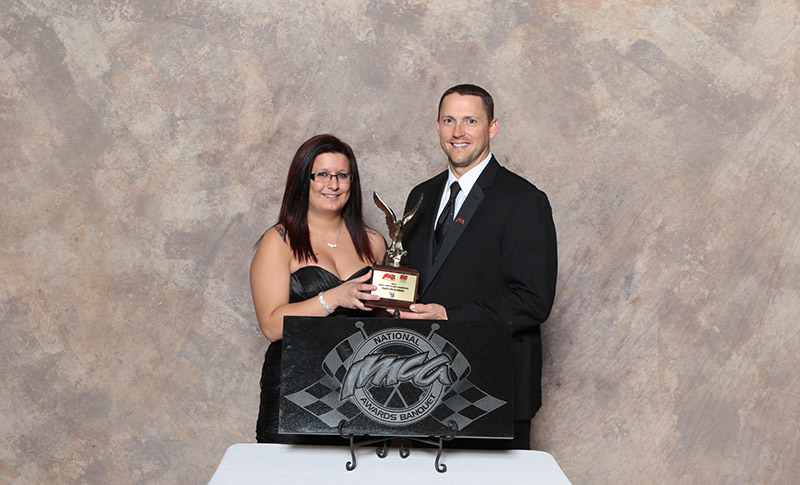 SPENCER, Iowa ­­– You'd never guess that there was a time when it was tough to get Kaytee DeVries to the track.
Now she's often the one who decides what track to go to.
DeVries made 74 starts in her third Mach-1 Sport Compact season. She had the highest point total among the more than 200 female drivers in eight IMCA divisions to earn her career-first De­sign 500 Lady Eagle award.
"We were eager to get the season started so we went to Spring Nationals at Beatrice," said DeVries, who competed with husband Jay on 73 occasions in 2015. "I was doing pretty good when somebody told me I was leading the Lady Eagle points. That's when I decided to go for it."
Racing as often as five times a week, DeVries traveled to 10 different tracks in three states. Her efforts were rewarded with eight feature wins and 31 top-five finishes.
Most of the tracks DeVries raced at regularly are less than 45 minutes away. Hancock County Speedway in Britt is the furthest tow while Clay County Fairgrounds is conveniently located in her hometown of Spencer.
"I do really well on the big tracks and they get some of the best car counts," said DeVries. "This was the best year of my career and I think a lot of that is seat time and the advice I get from Jay. Our driving styles are different but he's raced since 2006 so there's a lot I've been able to learn from him."
Seventh in the national standings, DeVries was runner-up to her husband in Allstar Performance Iowa State and Buena Vista Raceway, Clay County Fairgrounds ­­­– where Jay got the title via tie­breaker ­– and Kossuth County Speedway track points.
"It's not easy to race with Jay," said DeVries, also third points-wise at Nobles County Speedway, fourth at Hancock County Speedway and seventh at Jackson Speedway in Minnesota. "We are both very competitive."
Jackson, one of those big dirt ovals DeVries likes so much, yielded the July 11 feature win that ranked as one of her season highlights.
"Jay and I both started in the back row that night and worked our way to the front," she said. "I won and he finished second so it was a good night for both of us."
Jay also had 74 starts this season. He went to watch when Kaytee finished fourth in her first-ever visit to Redwood Speedway on Aug. 2, then test-drove her car to a feature win 13 days later at Britt.
With serious repairs kept to a minimum this season, most regular maintenance work on the DeVries' regular cars ­– they also have a backup ride just in case ­– was done on Sundays and Mondays. Crewman Dilan Laubenthal helped keep all three cars race-ready.
Kaytee is sponsored by Creative Spirits of Okoboji, Clean Edge Flooring of Spirit Lake, Twisted Tattoos of Milford, Luby's Service Center of Terrill, Wise Construction of Sioux Rapids, Black Earth Java and D-Lube Motorsports, both of Spencer, Central Bale and Grind of Estherville and Fahlenkamp Electric of Hartley.
DeVries was a reluctant spectator when she started dating Jay, but developed an interest in rac­ing herself and began wheeling a novice hornet at Fairmont in 2010. She won the track champion­ship in that class at Algona just two years later.
"I didn't like racing at first. Now there are nights when I'm the one who decides where we go," she said. "One of the things I like most about this class is that it's affordable. If we moved up to an­other class, we wouldn't be able to race as much and I don't know what we'd do because racing has become such a big part of our lives."