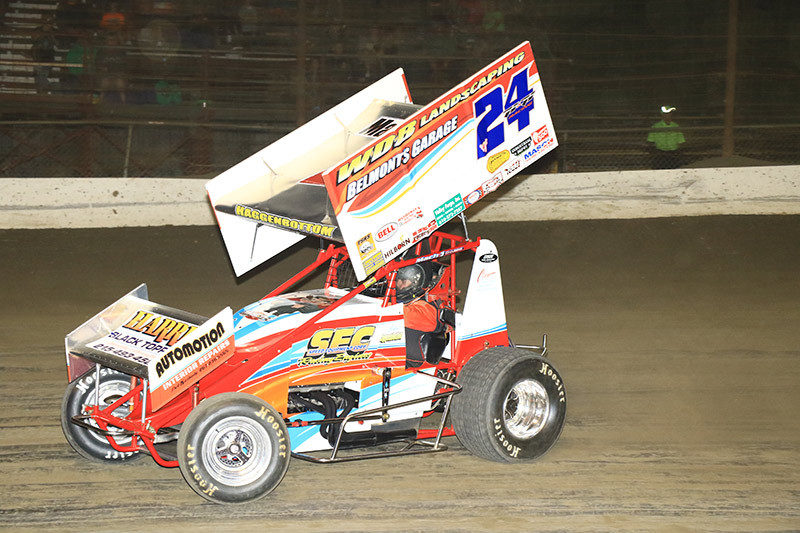 LEVITTOWN, Pa. – A racer through and through wrote his name in the IMCA record book this season.
Mike Haggenbottom finished second in the national point standings for IMCA Eagle Motorsports RaceSaver Sprint Cars. A four-time feature winner, he finished outside the top five twice in just 21 sanctioned starts in earning Tri-State RaceSaver Series and New Egypt Speedway titles.
He also became the first driver in any sanctioned division to win an Allstar Performance New Jer­sey State championship.
"I had no clue how the IMCA point system worked," admitted the Levittown, Pa., pilot. "A friend, Cody Mallicoat, texted me and said I was in the top two nationally. That's pretty neat."
He's raced Sprint Cars since 1991 and has won a championship of some sort in each of his four RaceSaver seasons.
"I started racing quarter midgets when I was five years old and have driven just about every kind of race car in the last 40 years. It's a neat feeling to wheel an open-wheeled car. With the way the tracks are, you have to finesse them," Haggenbottom said. "I like the affordability of RaceSaver. It brings back the fun because you don't have to spend a lot of money."
"I don't come from a family that had a lot of money. I thought my racing was going to end at 16," he added. "To look back now at what we've been able to do and at some of the (more than 60) tracks we've raced at has been great."
Haggenbottom ran 360 sprints and then dabbled in 410s before starting his RaceSaver career. The big dirt oval at New Egypt is some 25 miles from his doorstep.
"I like being able to race close to home and the majority of my races are on dirt," he said. "Asphalt is a bonus. I enjoy both. I'm a racer through and through."
He's so much of a racer, in fact, that Haggenbottom and fiancée Tracey Page are waiting until area race schedules come out before setting a wedding date.
His crew includes brother and car owner John, his parents Walt and Mary, Bob Kashady, Bob 'Jesse' James, Tony Matyi, Andy Hiddemen, Joe Miles, Zach Dunkelberger and Glenn Vedder.
Haggenbottom's sponsors are Speed Equipment Corp. and Kashady Automotion, both of Ben­salem; Belmont's Garage in Langhorne; Harris Blacktopping of Yardley; W.D.B. Landscaping and Plant Preservation, both of Morrisville; Valley Forge Inc. of Valley Forge; Mach-1 Chassis of Mechanicsburg; ASI Racewear of Patchogue, N.Y.; and Lucas Oil.