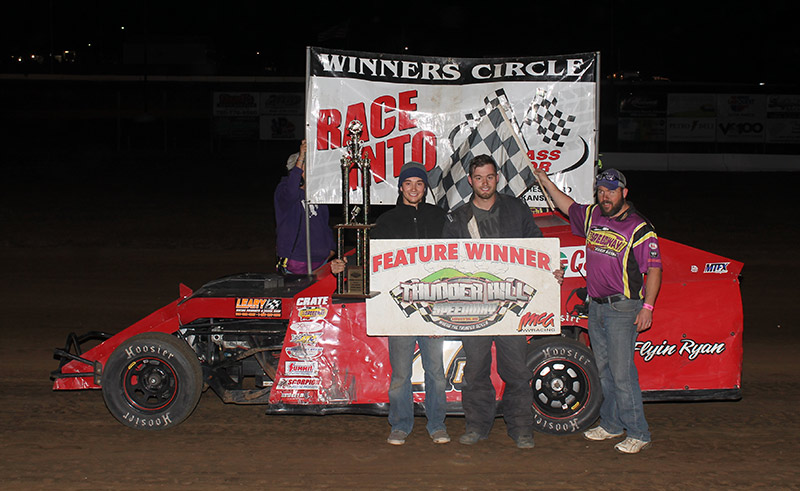 By Larry Lowrey Jr.
MAYETTA, Kan. (Oct. 9-10) ­– Corey Burch and Ryan Gaylord rumbled to $2,000 Xtreme Motor Sports IMCA Modified feature wins at Thunder Hill Speedway's season-ending Thunder on the Hill special.
Burch captured opening night honors, overcoming lapped traffic and late cautions to take his first win this season at Mayetta. Gaylord outran track champion Steven Bowers Jr. in a tightly con­tested Saturday feature.
Once in front of the Friday night field, Burch put a stranglehold on the top spot and refused to let go.
Bowers mounted an assault at Burch on a late race restart but it was deemed that both he and Johnny Saathoff jumped the start and were penalized and put to the rear of the field.
That left Jet Racing Central Region champion Dylan Sherfick and Jordy Nelson to try and unseat Burch at the top. It was all Burch down the stretch while Sherfick, Nelson, Eddie Ingram and Jay Noteboom rounded out the top five.
The Saturday finale went down to the final lap. The eighth starting Bowers had raced his way into the lead before a pair of yellows with seven laps left changed the complexion of the race.
Gaylord had erased most of Bowers' big lead as they began to work lap 27 and the two swapped the front spot multiple times. On the white flag lap, Gaylord dropped down to take Bowers' line away and led to the checkers.
Bowers was a very close runner-up. Burch was third while Sherfick and Noteboom were next across the stripe.
National champion Tyler Frye was a double winner in the Karl Chevrolet Northern SportMods.
Other Friday checkers flew for Jim Powell in the IMCA Sunoco Stock Cars and for Tommy Fose in the IMCA Sunoco Hobby Stocks. Angel Munoz paced the Stocks and Nicholas Ronnebaum ruled the Hobbies on Saturday.
Luke Stallbaumer looked to have the car to beat early in Friday's SportMod main but fell off the pace with mechanical issues. That opened the door for the hard-charging Frye, who ran away with his 10th local win of 2015.
Kelly Kneisler had his best finish of the year in the second spot and North Dakota driver Jeff Hooker was third.
Powell had a comfortable margin of victory earlier in the night in his heat race and that carried over to the feature.
Mat Stallbaumer kept pace with Powell as the two went nose to tail for several laps before ending in second while 11th starting Brandon Conkwright was third.
Fose, who'd wrecked on the last lap going for the track title on the final night of the point season, passed Tyler Garst for the front and held off 14th starting Tyler Hinrichs for the Hobby Stock win.
Completing the top three was Garst.
Hooker got out in front of the field early in Saturday's SportMod feature while Frye worked his way up from ninth.
Twice cautions wiped out Frye's pass from fifth to the front but when the green light came on a third time, he worked his way back in front for good.
Hooker was the runner-up and third was Luke Stallbaumer.
Munoz checked out on his Stock Car competition and ran away with the big money but the battle for second was a dandy as seven different drivers went back and forth, often four- and five-wide, in their pursuit of the runner-up spot.
Josh Everhart put together one of his best runs and finished second. Bryan Rigsby raced his way to third.
Ronnebaum finally got the upper hand in the closing laps of the Hobby Stock feature. Patrick Pellman finished a close second and Greg Gilbert was third.
Oct. 9 Feature Results
Modifieds ­– 1. Corey Burch; 2. Dylan Sherfick; 3. Jordy Nelson; 4. Eddie Ingram; 5. Jay Note­boom; 6. Mat Stallbaumer; 7. Tom Charles; 8. Steven Bowers Jr.; 9. Brandon Blochlinger; 10. Shawn Anderson; 11. Dylan Book; 12. Yancy Shepard; 13. David Solberg; 14. Brian Murphy; 15. David Conkwright; 16. Shane DeMey; 17. Devin Stock; 18. Johnny Saathoff; 19. Clay Hale; 20. Bobby Bills; 21. Travis Neeley; 22. Mike Tanner; 23. Troy Baumgartner; 24. Josh Blumer.
Stock Cars – 1. Jim Powell; 2. Mat Stallbaumer; 3. Brandon Conkwright; 4. Josh Everhart; 5. Ja­son Davis; 6. Gene Stigall; 7. Kyle Stallbaumer; 8. Robert Garst; 9. Blake Peeler; 10. Brent Alver­son; 11. Dominic Thyfault; 12. Bob Arnold; 13. Justin Merriman; 14. Hank Thompson; 15. Brian Labonte; 16. Mark Ronnebaum; 17. Anthony Deters; 18. Brad Labonte; 19. James King; 20. Marvin Griffith Jr.; 21. Gary Laflin; 22. Eric Rempel; 23. Greg Deters; 24. Bryan Rigsby.
Northern SportMods – 1. Tyler Frye; 2. Kelly Kneisler; 3. Jeff Hooker; 4. Jeremy Pittsenbarger; 5. Roger Sluka; 6. Bryan Rigsby; 7. Jacob Davis; 8. Bret Degand; 9. Ricky Abrams; 10. Austin Charles; 11. Dusty Leonard; 12. Lance Dixon; 13. Steven Goodman; 14. Gary Holthaus; 15. Derek Smith; 16. Cody Morgan; 17. Aaron Hilderman; 18. Trenton Kleweno; 19. Tim Stallbaumer; 20. Luke Stallbaumer; 21. Dustin Rawlings; 22. Shawn Ray; 23. Eric Spreer; 24. Kyle Williams.
Hobby Stocks ­– 1. Tommy Fose; 2. Tyler Hinrichs; 3. Tyler Garst; 4. Bradley Sheetz; 5. Eric Chab; 6. Dalton Ronnebaum; 7. Dalton Blow; 8. Byron Glotzbach; 9. Scott Garst; 10. Patrick Pellman; 11. Jerry Morehead; 12. Alex Boyden; 13. Ricky Tanner; 14. John Bass; 15. Nicholas Ronnebaum; 16. Mallory Stiffler; 17. Shane Hilton; 18. Larry Hunter; 19. Jeff Rigsby; 20. Damon Turkin; 21. Kurt Hansen.
Oct. 10 Feature Results
Modifieds – 1. Ryan Gaylord; 2. Bowers; 3. Burch; 4. Sherfick; 5. Noteboom; 6. Anderson; 7. DeMey; 8. Book; 9. Saathoff; 10. Yancy Shepard; 11. Blumer; 12. Stallbaumer; 13. Lance Town; 14. Murphy; 15. Stock; 16. Billy Shepherd; 17. Paul Christenson; 18. Robert Shepard; 19. Nelson; 20. Solberg; 21. Tanner; 22. Baumgartner; 23. Charles; 24. Conkwright.
Stock Cars ­ – 1. Angel Munoz; 2. Everhart; 3. Rigsby; 4. Kyle Stallbaumer; 5. Mat Stallbaumer; 6. Peeler; 7. Jim Powell; 8. Thyfault; 9. Davis; 10. Greg Deters; 11. Rempel; 12. Arnold; 13. Grif­fith; 14. Brian Labonte; 15. Dustin Sievers; 16. Stigall; 17. Merriman;18. Thompson; 19. Bob Trout­wine; 20. Brad Labonte; 21. Garst; 22. Ronnebaum; 23. Anthony Deters; 24. Rich Boyden; 25. Conkwright.
Northern SportMods ­– 1. Frye; 2. Hooker; 3. Luke Stallbaumer; 4. Leonard; 5. Kleweno; 6. Sluka; 7. Charles; 8. Abrams; 9. Pittsenbarger; 10. Goodman; 11. Tracy Schaefer; 12. Holthaus; 13. Bryce Frakes; 14. Davis; 15. Gus Harrison; 16. Tim Stallbaumer; 17. Ryan Gilland; 18. Mor­gan; 19. Smith; 20. Rigsby; 21. Kneisler; 22. Hilderman; 23. Ray; 24. Degand.
Hobby Stocks – 1. Nicholas Ronnebaum; 2. Pellman;3. Greg Gilbert; 4. Ryan Sutter; 5. Luke Wassom; 6. Tyler Garst; 7. Eric Cross; 8. Roy Armstrong; 9. Sheetz; 10. Tanner; 11. Fose; 12. Bass; 13. Turkin; 14. Hinrichs; 15. Skyler Kaster; 16. Boyden; 17. Hunter; 18. Glotzbach;19. Han­sen; 20. Blow; 21. Rigsby.