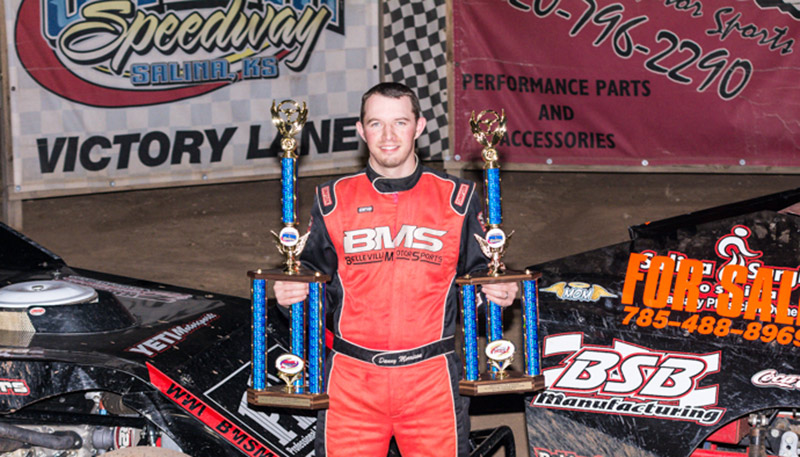 By Dusty Wiegert
SALINA, Kan. (Oct. 9) – Announcer Jerry Jones announced Danny Morrison Jr. as the winner of a race not once, not twice, not even three times, but four times on Friday night as the Mid-Amer­ica Clash 3 opened at Salina Speedway.
Two individual clean sweeps were in the works for the Morrison team, starting with the Auto House Mod Lites. Morrison had more of a challenge in the $2,000 to win 1st Class Chassis IMCA Mod­ified feature but was still able to hold off former multi-time national champion David Murray Jr. and Darrick Klima, who returned to an IMCA Modified for the first time in over a year at the speed­way and finishing second.
Ryan Gaylord finished third while Jerry Phillips' bid to win three straight at the speedway came up short in fourth. Morrison's win put him on the Ballot for the 2016 Fast Shafts All-Star Invitational.
In a display of true skill, Austin Carter took home the hardware after having to drop to the back early in the Coors Light IMCA Stock Car feature. He worked his way up through the field and to the win, outlasting Angel Munoz, Jason Rogers and Perry Misner.
Daniel Gottschalk continued his dominance of the Xtreme Motor Sports IMCA Northern SportMods, working past Nate Ginest and to the opening night win. Ginest finished second, Da­kota Sproul third and Fred Traskowsky fourth.
Continuing his resurgence over the second half of the season was Mike Traskowsky in the Bud­weiser IMCA Hobby Stock division. Traskowsky made short work of a stout field, holding off re­peated tries by Shay Simoneau to take the lead.
Simoneau settled for second with Kelly Pihl third and Jason Cleveland fourth.