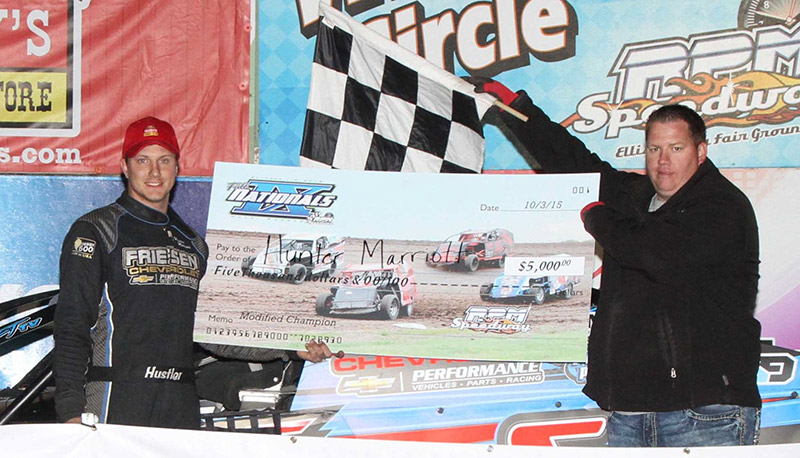 By Mike Hughes
HAYS, Kan. (Oct. 3)– Hurryin' Missourian Hunter Marriott took advantage of his front row starting spot Saturday night, taking a lead he would not relinquish and driving away for the $5,000 Xtreme Mo­tor Sports IMCA Modified win at RPM Speedway's Fall Nationals.
A couple cautions gave the rest of the field a chance but Marriott, already on the ballot for the 2016 Fast Shafts All-Star Invitational, was up to the challenge in topping the 40-lapper.
Ryan Gaylord prevailed in the close battle for second over Cody Gearhart. Eddie Belec was fourth and Kyle Rohleder fifth.
More than 220 race teams from 13 states converged on the 3/8-mile oval for the season-ending Fall Nationals. Seventy-one Modifieds saw action.
Other winners included Angel Munoz in the IMCA Sunoco Stock Cars, Tyler Frye in the Karl Chevro­let Northern SportMods, Brandon Beeter in the IMCA Sunoco Hobby Stocks and Randy Murphy in the Mach-1 Sport Compacts.
Casey Woken led the opening lap of the $3,000 to win Stock Car main, followed by Munoz and Nick Tubbs. Munoz took the lead on lap two, then was passed on lap 10 by Jason Rogers.
Munoz regained the lead by halfway but Woken took the top spot on lap 17. Twoce the Hobby Stock winner at Fall Nationals, Munoz passed Woken one lap later and held off several drivers for a trip to victory lane. Rogers finished second, trailed closely by Justin Bussell, Woken and J.C. Howell.
Trenton Kleweno took the early lead in the Northern SportMod feature and was still in front half­way through the 25-lapper. But after a caution on lap 17 when Cody Pancake hit the frontstraight wall, Frye of passed Kleweno on the restart and led the remaining distance to capture his career fifth Fall Nationals win and a $2,000 payday.
Kleweno held on for second, with Blaine Walt, Tyler Watts and Nate Ginest rounding out the top five after Dustin Daniels was disqualified in post-race tech from third place.
Beeter made the long haul from North Dakota worthwhile as he started on the pole and led all 25 laps of the Hobby Stock main to take the $1,500 winner's check.
Andrew Burg, who won a feature back in March during the Sunflower Classic, chased Beeter the entire race and stayed close but had to settle for second. Kyle Bond finished third, followed by Colin Heim and Kyle Pfeifer.
Murphy was Thursday's Sport Compact winner.
Modified driver Ronnie Hill was named to the Wall of Fame. He was track champion at Hays in 2006.
Feature Results
Modifieds – 1. Hunter Marriott; 2. Ryan Gaylord; 3. Cody Gearhart; 4. Eddie Belec; 5. Kyle Rohle­der; 6. David Murray Jr.; 7. Chris Bragg; 8. Nick Roberts; 9. Brady Coen; 10. Cole Traugott; 11. Steven Bowers Jr.; 12. Anthony Roth; 13. Brendon Gemmill; 14. Jeff Hunter; 15. Marty Clark; 16. Zane DeVilbliss; 17. Corey Burch; 18. Corey Lagroon; 19. Greg Gustus; 20. Brian Levander; 21. Jon Plowman; 22. Trent Gray; 23. Michael Hale; 24. John Hansen.
Stock Cars – 1. Angel Munoz; 2. Jason Rogers; 3. Justin Bussell; 4. Casey Woken; 5. J.C. How­ell; 6. Nick Tubbs; 7. Jason Davis; 8. Tanner Portenier; 9. Tyler Hahn; 10. B.J. Wagoner; 11. Aus­tin Carter; 12. Perry Misner; 13. Jeff Tubbs; 14. Trevor Schmidt; 15. Bruce Plumisto; 16. Andrew Altenburg; 17. Aaron Gray; 18. Chase Conaway; 19. Nolan Remus; 20. Josh Crombie; 21. Arnold Williams; 22. Jason Schoenberger; 23. Chad Sterling; 24. Kevin Wagoner.
Northern SportMods – 1. Tyler Frye; 2. Trenton Kleweno; 3. Blaine Walt; 4. Tyler Watts; 5. Nate Ginest; 6. C.J. Pfannenstiel; 7. Dakota Sproul; 8. Brock Beeter; 9. Rodger Peck; 10. Jason Lunow; 11. Tanner Portenier; 12. Ryan Stevenson; 13. Christopher Harmon; 14. Bryan Herrick; 15. Matthew Crowell; 16. Pat Bedore; 17. Bentley Pywell; 18. Eric Pfeifer; 19. Daniel Gottschalk; 20. Kelly Henderson; 21. Brenden Damon; 22. Cody Pancake; 23. Dan Lauer.
Hobby Stocks – 1. Brandon Beeter; 2. Andrew Burg; 3. Kyle Bond; 4. Colin Heim; 5. Kyle Pfeifer; 6. Jason Wilkinson; 7. Dillon Thompson; 8. Jesse VanLaningham; 9. Garrett Hager; 10. Adam Armstrong; 11. Jason Fusselman; 12. Austin Davis; 13. Kurt Hansen; 14. Colton Pfeifer; 15. Tyrel Smith; 16. Roger Garrison; 17. Jace Smith; 18. Nick Lindblad; 19. Sterling Sorenson; 20. Eric Cross; 21. Brock Beeter; 22. Cody Williams; 23. Joe Wollenhaupt; 24. Monte Honas.
Sport Compacts ­– 1. Randy Murphy; 2. Ryan Murphy; 3. Art Herzog; 4. Brooke Russell; 5. Toby Schwein; 6. Jarrett Lunow; 7. Bailey Galvin; 8. David Pfeister; 9. Dave Dembowski; 10. Dallas Dunn; 11. Paul Whittenburg; 12. Kiowa Higdon; 13. Dale Donnie.