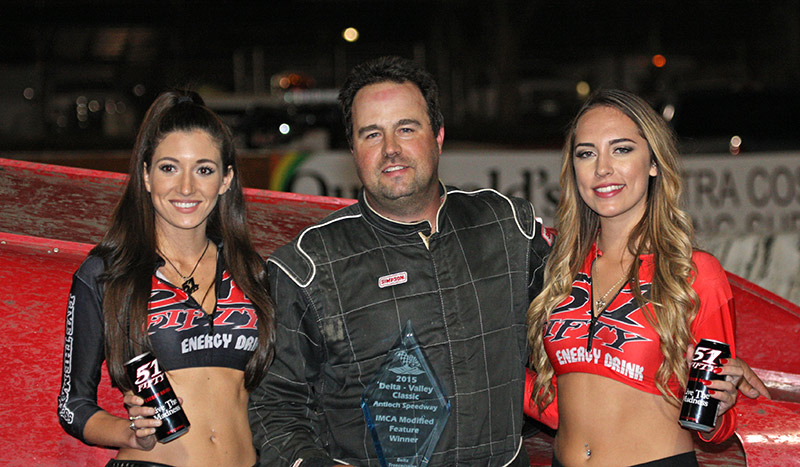 MERCED, Calif. (Sept. 26-27) – Bobby Hogge IV repeated history in taking both legs of the fourth annual Delta-Valley Classic at Antioch Speedway and Merced Speedways, collecting $4,000 in winnings and a $500 bonus.
Hogge had accomplished the same difficult Xtreme Motor Sports IMCA Modified feat four years earlier.
Challenged by 16-year-old Ethan Dotson, the veteran Hogge searched for the right groove to maintain the lead Sunday at Merced. Paul Stone, who had run second the night before at Antioch, chased Dotson across the line.
"Ethan is a true racer. He left me room to race him clean. He's very impressive for his age," Hogge said from victory lane. "As the track became slicker and slicker, I tried to stay in the same ruts lap after lap to maintain traction."
Earlier this summer, Dotson pulled off an upset, winning the Harris Clash at Hamilton County Speedway in Webster City, Iowa. He was the first Californian to win that race.
Soft-spoken Dotson was modest after the Merced show.
"I came close to passing him a few times. Once I almost did it on a restart," he said. "Bobby was just a little bit better than I could be tonight."
The weekend Classic began at Antioch, where Stone got behind Hogge just before the finish.
"I wasn't surprised to see Paul there," Hogge IV said. "I could see him hounding Brian Cass on the bottom, so I went to the bottom and that was the place to be."
Stone, who worked his way to the front had a smooth drive at Antioch, but had to survive a couple of skirmishes at Merced.
"I tried not to overdrive, because I needed to be there at the end," Stone said of his Antioch performance. "From starting 13th to finishing second wasn't a bad run."
Merced action saw Stone narrowly avoid serious damage from spinning cars. He brushed the fourth turn wall early in the race.
"I started too far back," he Stone. "It was a hornet's nest back there. My front end was a little messed up. That would make it hard to catch a top driver like Bobby."
At Antioch, it was Duane Cleveland, Ryan McDaniel and Troy Foulger who completed the top five spots behind Hogge and Stone in the 22-car field.
Merced saw Stone, followed by Kyle Wilson and Alex Wilson complete the top five behind Hogge and Dotson.
Hogge was already on the ballot for the 2016 Fast Shafts All-Star Invitational.