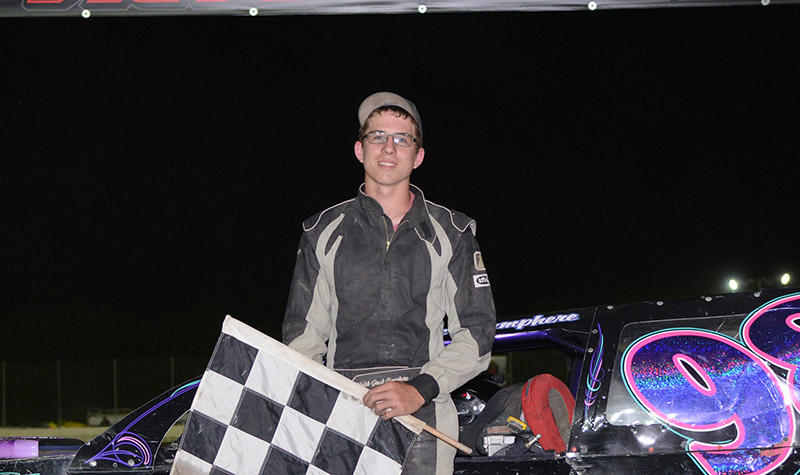 MONROETON, Pa. – The start of Keith Lamphere's senior year at Towanda High School will have to wait.
He's coming to Boone.
Lamphere, 17 years old as of July 17, a three-year veteran of the IMCA Modified division and the cur­rent point leader in Dirt Works Eastern Region, will make his first competitive trip to the IMCA Speedway Motors Super Nationals next month.
"As a driver, Super Nationals has always been on my bucket list," said Lamphere. "My cousin (Logan Terry) also races a Modified and told me about Super Nationals. I watched it on TV before going with Jason Ben­jamin to watch last year."
Benjamin shares space in Lamphere's Monroeton, Pa., shop and will join him on the 1,000-plus mile trip out west.
Their convoy will include a toter, a trailer with plenty of spare parts and "15 or so" crew members.
"We got out there last year and just watched. All the cars and all the people were just amazing. It's a different world out there than it is on the Northeast Coast," Lamphere said. "It just killed us to be at Boone and not be able to race. We decided on the second night we were there that we'd bring our cars this year."
After recording the first two wins of his IMCA career in 2014, Lamphere had seven checkers to his credit through his first 38 sanctioned starts this season.
"I'm trying to learn everything now about the car that I can to get better. We've got setup down pretty good right now," said Lamphere, who'd worked his way back into the national top 20 point standings in late July. "The biggest thing for us has been going from a larger track on Friday to a smaller one on Saturday."
As a spectator, he developed an appreciation for the regular farming sessions each night of Super Nation­als. As a first-time competitor at Boone, Lamphere looks forward to benefitting from that careful attention.
"Having seen how the track is prepped, I'm excited to see what it's like racing at Super Nationals," Lamphere said. "How they prep the track at Boone is a game changer."
Sponsored by Lamphere's Truck Parts of Monroeton, Close Racing Supply of Eldred and Chad Ely Race Engines and Insinger Performance Fuels both of Dushore, Lamphere shares the ultimate goal of making the Saturday night main event. No driver from Pennsylvania has made it into the big dance.
"Realistically, I'd like to win a heat race and make it into a qualifying feature. That's one of my goals," he said. "I think going to Boone will help us learn how the car reacts in different ways and help us run bet­ter back home."