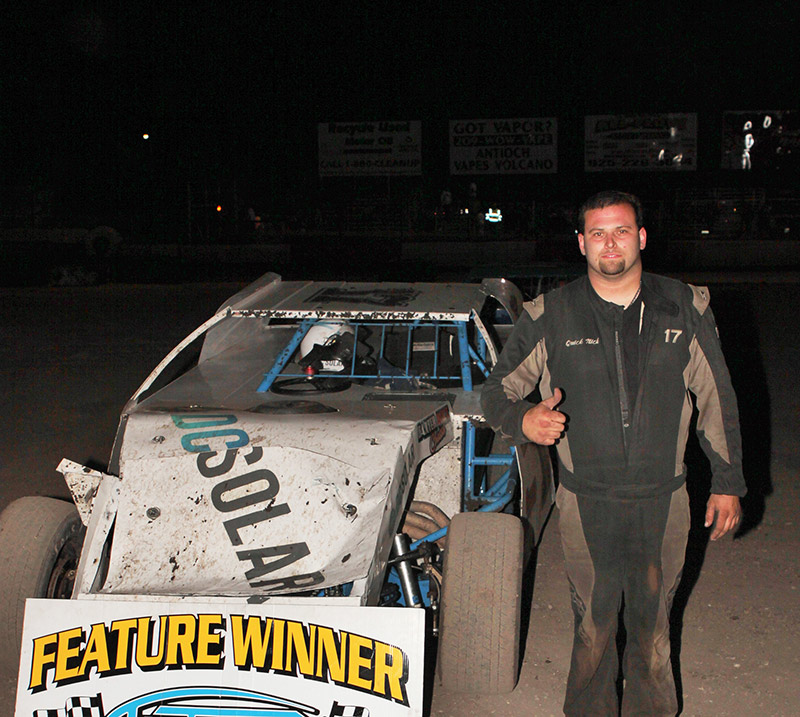 ANTIOCH, Calif. (Aug. 29) – Nick DeCarlo took advantage of a fumble by Shawn DeForest to win Saturday's Xtreme Motor Sports IMCA Modified feature at Antioch Speedway.
The win came by out-maneuvering DeForest in lapped traffic. DeCarlo and DeForest started in the back of the pack. As they passed cars, DeCarlo made a bold move.
"Nick (DeCarlo) just went around all of us," said DeForest. "I fumbled and he got by me."
With three laps to go, Aaron Crowell was holding onto first when DeCarlo passed him on the restart. Scott Busby was challenging Crowell for second when DeForest made his move for DeCarlo with one lap to go.
"Before I knew it, the race was over. Running on the bottom of the track was good for me. Every car I passed, I passed on the inside, which is uncharacteristic for me," DeForest said.
Oreste Gonella moved into third place.
Anthony Giuliani outdueled Patti Ryland to win the Karl Chevrolet Northern SportMod feature. Giuli­ani scored his fourth IMCA win of the year after starting last.
When Fred Ryland's hood flew off to bring out a restart, Giuliani still had to contend with Patti Ryland, Fred's wife.
"Patti was really running great. We raced very hard, side by side," Giuliani said. "It was really fun. She is an excellent driver to race against."
Trevor Clymens was third.