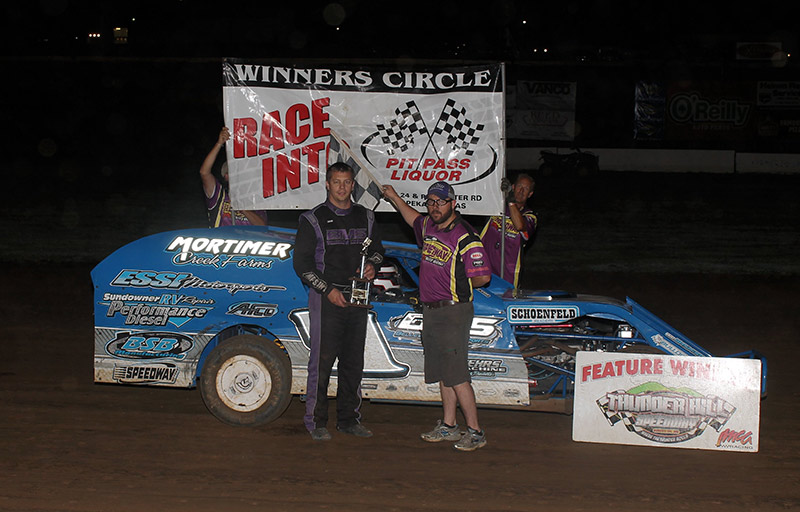 By Larry Lowrey, Jr.
MAYETTA, Kan. (Aug. 29) – The 2015 season came to a close with Championship Night at the Races Saturday at Thunder Hill Speedway.
All five IMCA divisions crowned their unofficial champions.
In the BSB Manufacturing IMCA Modifieds Steven Bowers Jr. was the only driver that locked up his title prior to Saturday night's races. Tyler Frye took the Bad Boyz Bail Bonds IMCA Northern SportMod crown. It's rare that a rookie wins a track championship, but that's exactly what Dominic Thyfault did in the Heinen Repair Service IMCA Stock Cars. Another rare feat is to win a championship without ever winning a feature on the season and that's what Tyler Garst did in the Midwest Vending IMCA Hobby Stocks. The only driver to win for a championship for the 2nd consecutive year was Austin Umschied in the Casey's General Store IMCA Sport Compacts.
Feature winners on the final night of the season were Brandon Blochlinger in the Modifieds, Mat Stallbaumer in the Stock Cars, Frye in the Northern SportMods, Tyler Hinrichs in the Hobby Stocks and Kaylee Diekman in the Sport Compacts.
The Hobby Stock feature held the most excitement with the championship going down to the white flag lap.
Garst entered the night with a one point lead on Tommy Fose. If Fose were to finish one spot ahead of Garst, they would tie and Fose held the tie breaker as he had a feature win to his credit.
During the feature the two would go back and forth inside the top 5 while Hinrichs was out in front.
As the field came to the white flag, Fose knew that he had to get in front of Garst. The two headed into turn one with Fose trailing. Fose followed a daring path deep into the bottom of the turn and washed up in front of Garst in turn two.
As his momentum carried him toward the top of the turn, Garst drove under Garst and regained the spot as they came out of two. Garst had a slight advantage but Fose was on his door as they started down the backstretch and that's when Fose's championship dreams ended.
Fose went off the top of the track and straight into the implement tires and back stretch wall. He endured one of the hardest crashes of the season. Luckily, he would come out of the melee unscathed.
Garst, meanwhile, was able to finish the event and with Fose out would capture the title.