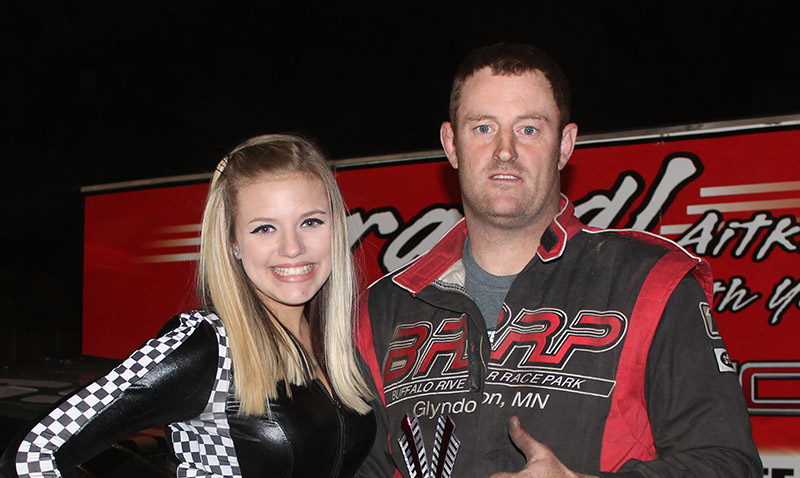 BEMIDJI, Minn. – Justin Jones won a Modified track championship in his first IMCA season.
He'll chase another career highlight-type of accomplishment in his second.
From Bemidji, Minn., the defending Buffalo River Race Park king makes his IMCA Speedway Motors Super Nationals fueled by Casey's debut in September. He plans to leave for Boone Speedway on Tuesday, Sept. 8 and drive overnight before beginning his qualifying quest the next day.
"I've never been to Boone before," said Jones, who's raced long enough and well enough not to be overwhelmed by a field of 200-plus Modifieds. "I know there will be a lot of good cars there but I'd like to think we could make the main."
"I have a crate that will have about 70 shows on it by then," he continued. "I wrecked about three weeks ago and paid for a new car instead of getting a new engine."
Jones won his first two nights out this season and had eight checkers and another 17 top five finishes in his first 33 starts.
Currently in the top 10 in the national point standings, he races at Norman County Raceway on Thursdays, Princeton Speedway on select Fridays, North Central Speedway on Saturdays and at Buffalo River on Sundays.
Jones' June 21 win at Buffalo River was especially notable in that North Dakota visitor Jason Wolla was in town. The two ran side-by-side in the late going before Jones ducked inside for the lead and eventual checkers.
A custom car crusher by profession, Jones is a 14-year veteran of the sport and drove a midwest modified (similar to a Karl Chevrolet Northern SportMod) for four seasons. He's been in a Modified since 2006, with a total of four local track titles to his credit in the class.
"The transition to IMCA has gone well. It's really went pretty smooth for me," said Jones, part of crate engine and tire testing programs in recent seasons. "I've been racing long enough that I should have a lot of that figured out."
Completing the race team are Jones' wife Leah, eight-month-old daughter Reagan and parents Bill and Donna of Onamia.
His primary sponsors include Mountain Dew, Adolph Catalytic Converters of Blaine, and Gateway Café & Station and Bud Jones & Sons Auto Salvage, both of Onamia.