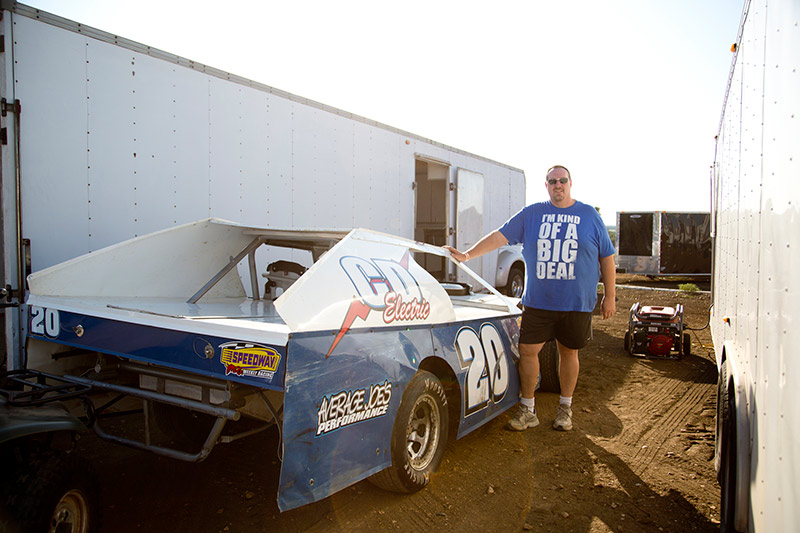 HUTTO, Texas – Now that he's got one Super Nationals first under his belt, Mike McCarthy is hoping to accomplish bigger and better things at the 33rd annual version of America's Racin' Vacation.
The Modified veteran from Hutto, Texas, was first to pre-register for the Sept. 7-12 IMCA Speedway Motors Super Nationals fueled by Casey's. Like all of the 800-plus drivers making the trip to Boone Speedway next month, McCarthy has his sights set on making the Saturday night main event.
"We always have a good time at Super Nationals. We never pit by the same people, so we make new friends every year," said McCarthy, known as the 'unofficial security guy' during overnight hours at the track. "It's one of the best races in the country to watch. Bobby Sliva made the feature in my car in 2001 and ever since then I've wanted to make it myself."
The winner of a heat race six years ago, McCarthy will be competing at Super Nationals for the 13th time. He didn't have a car and missed 2006 and 2007, then drove a Stock Car for a friend in 2012 and 2013.
The addition of Northern SportMods to the schedule and the crate engine option are two of the biggest differences between his first Super Nationals and the upcoming event.
"I don't think the number of cars has really changed so much as it's more people racing in more classes," McCarthy said. "Now you have the crate engine option for the Modifieds. I run open and I hope an open motor wins."
His have fun approach extends to the Duffer Nationals Golf Tourney, to be held on Friday morning during Super Nationals.
"We've never won the tournament. That's something else that's all about having fun," he explained. "My dad is retired military and I grew up playing on courses primarily around Texas."
Regardless of how McCarthy fares on the track during his week at Boone, he'll always have at least one Super Nationals first to his credit.
"When I called Virginia (Lindsey, IMCA's points and membership director) to get my license, I told her 'Let's go ahead and get my registration and pit stall for Super Nationals,'" said McCarthy, a quality engineer for Dell Computers. "Because no matter what, I was going to figure out how to take that week off from work."
He'll take another week off next spring to tie the knot with fiancée Jenifer Pangle during a Caribbean cruise. They'll set sail when his daughter Megan and her daughter Tristen are on spring break.
McCarthy is sponsored by Garvin's Machine Shop and TTD Bookkeeping, both of Killeen; Average Joe's Performance of Round Rock; CD Electric of Corpus Christi; Miller and Tsakopulos Financial Partners of San Antonio; and the JMT Race Team.