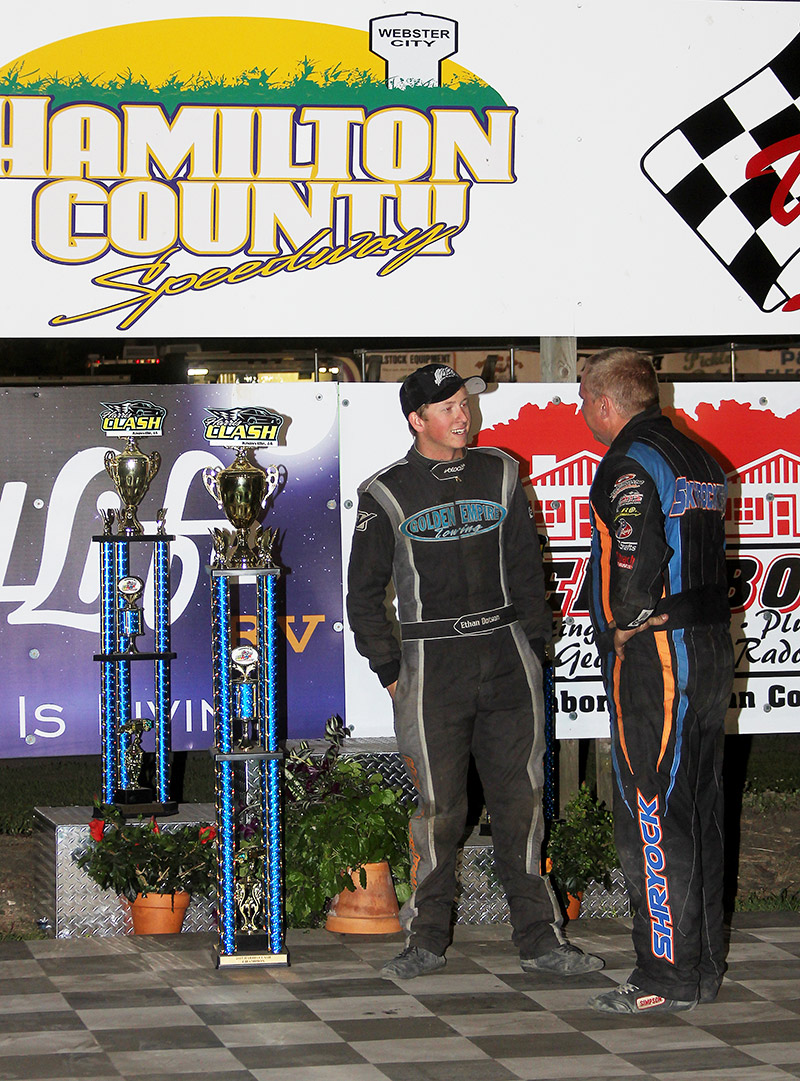 BAKERSFIELD, Calif. – Ethan Dotson has found IMCA success in his last two visits to the Midwest.
He's hoping that storyline continues a third time, when he returns for the IMCA Speedway Motors Super Nationals fueled by Casey's.
Dotson finished fourth in the Saturday night Northern SportMod main event at Boone Speedway last September. Now a rookie in the Modified division, the 16-year-old from Bakersfield, Calif., turned heads all around the racing world by winning the Aug. 4 Harris Clash at Hamilton County Speedway.
"I'd always dreamed of driving a Modified and it's the class I plan on staying in," said Dotson, who will start his junior year at Independence High School two and a half weeks before open night at Super Nation­als. "Hopefully I can keep on learning and getting better."
The decision was made last September to send Dotson back to Iowa in early summer. He got his career first Modified win on April 17 at Kings Speedway, one of 19 starts he made to start the season in the Larry Shaw Racing Western Region.
Following the Memorial holiday weekend and then a three-week break to get the car and trailer ready, Dotson made the long tow to Iowa with his father Wayne. He stayed with Northern SportMod driver Rocky Cau­dle in Ellsworth and kept the car at Bob Harris Enterprises in Ames.
"There is a lot of very good competition in this division. I think the cars are harder to drive (than SportMods) and there are tons of adjustments you can make on the setup," summed up Dotson.
His 20-plus stops in the Midwest came at eight Iowa venues where sanctioned Modifieds run weekly, plus Nodak Speedway and five Kupper Chevrolet Dakota Classic Tour shows.
Dotson's best BMS North Central Region feature finish prior to the Clash was third.
"That was a great win. Everything fell into place for us that night," he said. "It's awesome to be the Harris Clash champion but you still have to go out and prove yourself the next night."
He proved himself at Super Nationals last season after qualifying on the second night at Boone.
"We set our goals pretty high but to run fourth at Super Nationals was something else. We ran Boone and a few (three) weekly shows this summer and learned a lot. Hopefully we'll be able to take that to Super Na­tionals," said Dotson. "I'm like every other driver. To make the show would be incredible, but I think making a qualifying feature would be pretty good, too."
In addition to Bob Harris Enterprises, his primary sponsors include Golden Empire Towing, Kern Green­way Pest Inc., KB Pump Supply and Perry Henry Race Prep, all of Bakersfield.