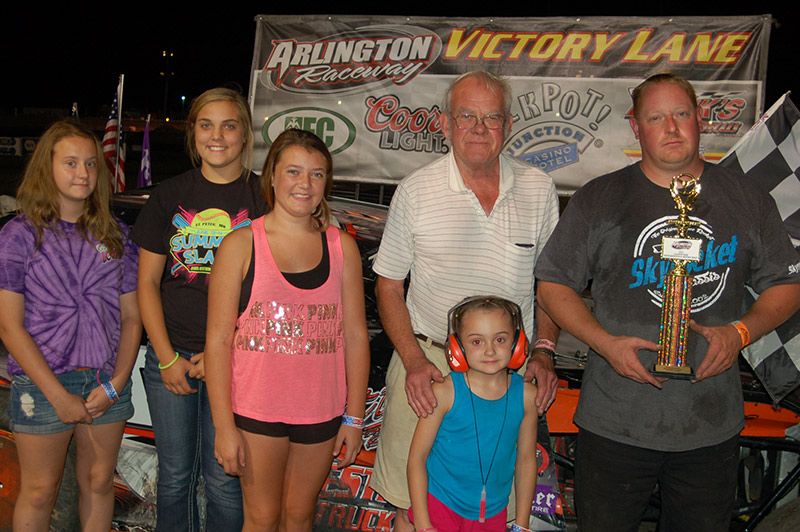 ARLINGTON, Minn. (Aug. 15) – Kris Zuhlsdorf picked up his first feature win of the season in Saturday's Unhinged Pizza IMCA Northern SportMod feature at Arlington Raceway.
Zuhlsdorf took the lead following an early restart. Jeremy Brown moved up from his sixth place start, tried unsuccessfully to pass and settled for second ahead of Chris Issacson and Matt Looft.
Justin Luinenburg won the Eckblad Trucking IMCA Hobby Stock feature, leading flag to flag and holding off point leader Cory Probst, who had battled with him for 10 laps after moving up from his ninth place start.
The B&B Racing Chassis IMCA Stock Car feature had four different leaders. Ultimately, Matt Speck­man was the final leader, beating Dan Mackenthun to the finish line by the width of his bumper.
Jeremy Schultz led the distance of the 95.7 IMCA Sprint Car feature from his front row spot. Four yellow flags for spinning and stalled cars didn't hamper his run to the checkers as he had a command­ing lead at the finish. Mike Stien took second and Brandon Allen was third.
The MN 93 IMCA Modified feature again saw Clint Hatlestad in victory lane. Mark Noble started ninth and worked through the field but ran out of laps.
A Coors Light IMCA Sport Compact feature that began with much of the 19-car field stacked up on the back stretch in an early melee ended with Nate Coopman in the winner's circle.