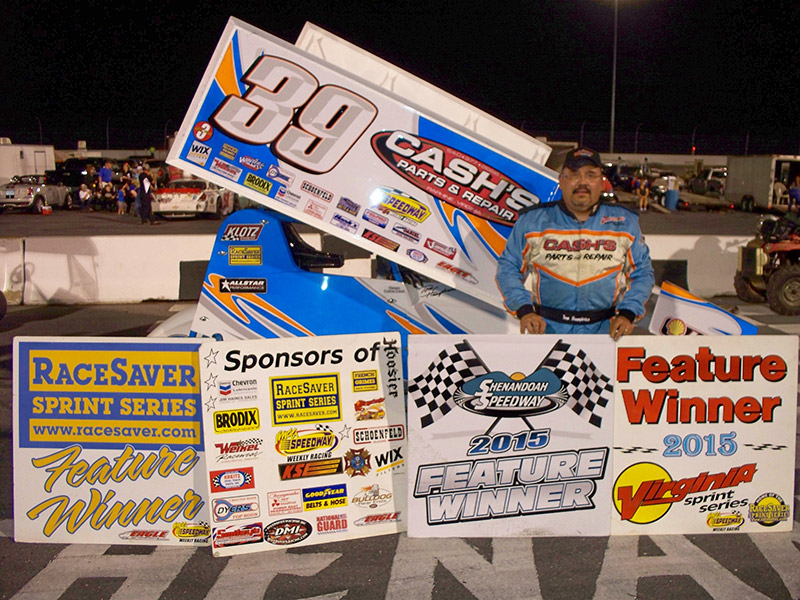 By Jim Haines
SHENANDOAH, Va. (Aug. 8) – Tom Humphries was smooth from start to finish in showing the rest of the field the way to the finish line in Saturday's Virginia Sprint Series main event at Shenandoah Speedway.
Bill Rice and Charlie Ware paced the IMCA Eagle Motorsports RaceSaver Sprint Car field to green. Rice shot out to the lead and Jerald Harris followed to second.
Humphries was on the gas and at lap five went around both cars and took the lead, bringing Harris along.
Humphries and Harris went at it lap after lap but with the checkered flag waving Harris could only get close as Humphries was first at the line.
Four series events have been held at Shenandoah Speedway this season and Humphries has won three of them.
Feature results – 1. Tom Humphries; 2. Jerald Harris; 3. Anthony Linkenhoker; 4. French Grimes; 5. Tony Harris; 6. Bill Rice; 7. Andrew Wrotten; 8. Chris Ware; 9. Ron Moyers; 10. Charlie Ware.