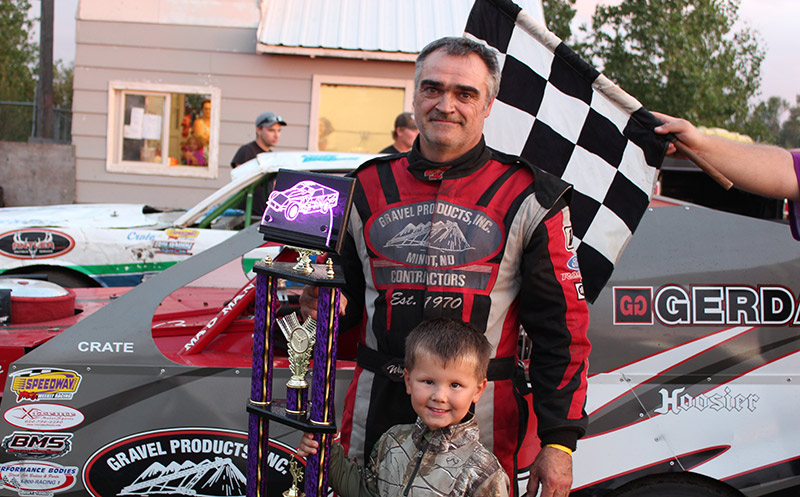 UNDERWOOD, N.D (Aug. 6) – Wayne Johnson turned back the calendar Thursday night at McLean County Speedway.
The 2000 track champion returned to Underwood to lead all 25 laps of the $1,000 to win Xtreme Motor Sports IMCA Modified Spectacular.
"They've banked the corners more but other than that, it's pretty much the same facility," Johnson said after the 2016 Fast Shafts All-Star Invitational ballot qualifying victory. It's a really nice, fast track and it was fun to race there again. They put on a pretty good show."
That show went on despite a persistent drizzle. Johnson started outside Russ John on the front row and took the lead at the drop of the green.
John, Tim Perkins and Shawn Strand gave chase early but to no avail as Johnson stayed in charge from start to finish.
Strand, Ben Seidler, Joren Boyce and Donald Robinson rounded out the top five. IMCA had last sanctioned Modifieds running weekly at Underwood in 2002.
Tory Mack was the Karl Chevrolet Northern SportMod winner and Boyce was best in the IMCA Sunoco Stock Car main. Cory Dignan topped the IMCA Sunoco Hobby Stock feature.
Feature Results
Modifieds – 1. Wayne Johnson; 2. Shawn Strand; 3. Ben Seidler; 4. Joren Boyce; 5. Donald Robinson; 6. Russ John; 7. Travis Olheiser; 8. Allan Fetzer; 9. Mike Nelson; 10. Kirk Wojahn; 11. Justin Medler; 12. Chris Barros; 13. Tim Perkins.
Northern SportMods – 1. Tory Mack; 2. Alan Bertsch; 3. Varion Hetle; 4. Robby Rosselli; 5. Kelly Henderson; 6. Erik Laudenschlager; 7. Robbie Conway; 8. Andrew Bertsch; 9. Jon Lizotte; 10. Kit Baumann; 11. McKenzi Faul; 12. Mike LeMay; 13. Chris Ullrich; 14.  Kory Hochsprung; 15. Marcus Tomlinson; 16. Matt Lizotte.
Stock Cars – 1. Joren Boyce; 2. Bob Fuegmann; 3. Chris Ellis; 4. Justin Striefel; 5. Beau Deschamp; 6. Rob Stenvold.
Hobby Stocks – 1. Cody Dignan; 2. Rick Vondal; 3. Remington Kostenko; 4. Vance Tomlinson; 5. Gary Goudy Sr.