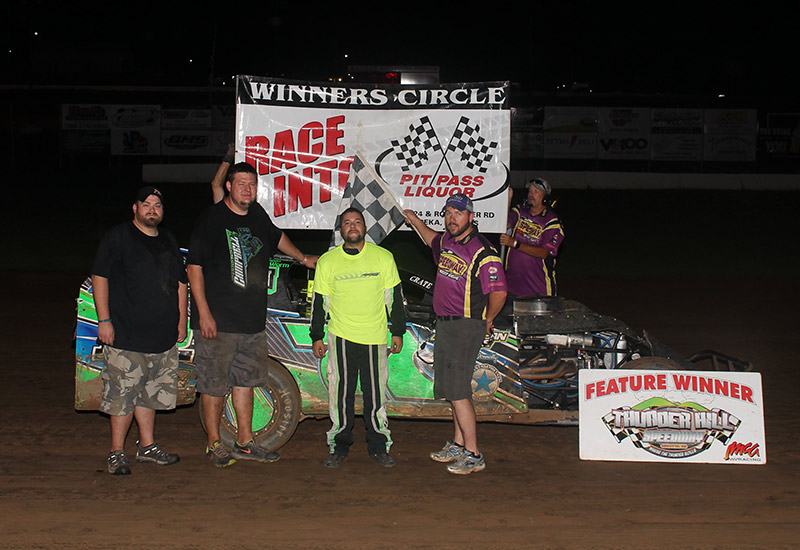 By Larry Lowrey Jr.
MAYETTA, Kan. (Aug. 8) – A $1,000 to win feature for Xtreme Motor Sports IMCA Modifieds had a million dollar ending Saturday night at Thunder Hill Speedway.
Steven Bowers Jr. beat Josh Everhart to the checkers by all of .009 of a second for the Conle White Memorial win, the big money and a berth on the ballot for the 2016 Fast Shafts All-Star Invitational.
Travis Neeley shot out to the early lead while Bowers and Everhart worked their way up from row five. Everhart moved up to third while Bowers got tied up in a battle with Tom Charles.
On a restart, Everhart took advantage of a bobble by Neeley to take the lead while Bowers struggled, still battling with Charles as he fell back to fifth.
The tight racing from second through fifth allow Everhart to get a big lead as the laps clicked away. Another caution, however, put Bowers right on his heels and the two went back and forth the remaining three laps.
Bowers took the advantage into the final turn and Everhart drove in deep underneath in four. The high side belong to Everhart as Bowers stayed glued to this door in a finish that was too close to call.
Electronic scoring determined Bowers to be the winner by the most miniscule of margins. Neeley put one of his best runs of the season together finishing third after fighting off Charles, who finished fourth. Allen Halderman rounded out the top five.
Shawn Harker ended Tyler Frye's string of eight straight victories with his first Karl Chevrolet Northern SportMod checkers at Mayetta this season.
Tommy Fose became a first-time winner at Thunder Hill in the IMCA Sunoco Hobby Stocks in 2015 and Jim Powell topped the IMCA Sunoco Stock Car main event.
Feature results – 1. Steven Bowers Jr.; 2. Josh Everhart; 3. Travis Neeley; 4. Tom Charles; 5. Allen Halderman; 6. Corey Burch; 7. Brian Murphy; 8. Jeff Jones; 9. Mat Stallbaumer; 10. Richard Spriggs; 11. Justin Becker; 12. Troy Baumgartner; 13. Robert Shepard; 14. Cliff Shepard; 15. Devin Stock; 16. Bill Carter; 17. Millard Gibson; 18. Billy Shepherd; 19. Anthony Tanner; 20. Larry Bouton Jr.; 21. Ricky Tanner.