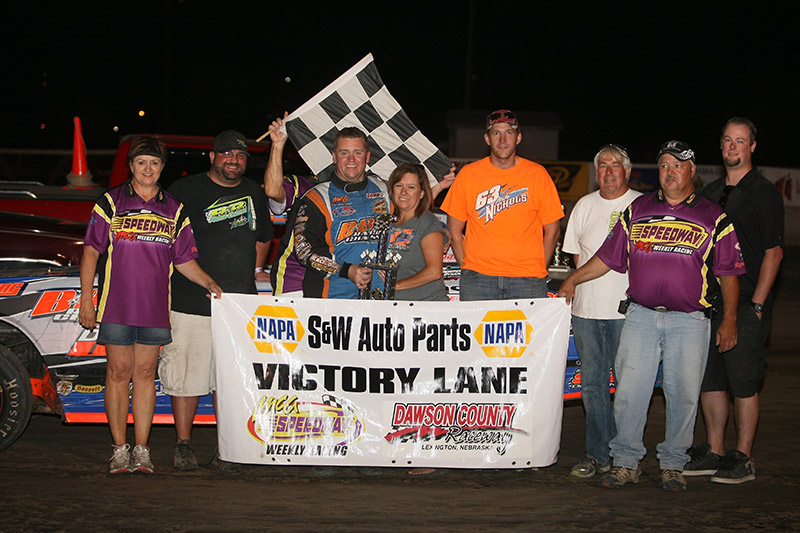 By Kelly Ninas
LEXINGTON, Neb. (Aug. 2) – Bragging rights belonged to Mike Nichols at Dawson County Raceway's IMCA Sunoco Stock Car Challenge Sunday night.
Nichols raced from 11th to win the pole dash, then from 12th to top the main event.
He took home $2,360 for his efforts, an amount that included $1,500 for the main event victory, $500 when he agreed to invert the top 12 finishers from the pole dash and $360 in lap money.
Kyle Clough led the first seven times around the oval from his pole start. Nichols passed his way toward the front on the high line, then went to the lowest line to drive by Clough.
"B" feature qualifier Kyle Vanover raced from 14th starting to second but wasn't able to catch Nichols. Jason Rogers also made the big show from his "B" race and made the most of the racy surface, driving from the eighth row to third.
Casey Woken and Chad Sterling completed the top five.
Nichols, who started last in his heat and just made the transfer, also pocketed a $150 bonus from Wade Cross and FX Suspension for winning the feature on four FX shocks.
Kyle Pfeifer was the $500 IMCA Sunoco Hobby Stock winner. He was leading and got caught up in a caution on the final turn. The finishing order went back to the last completed lap, with Kyle Bond scored second and Jacob Wolsleben third.
Other feature winners were Colton Osborn in the Xtreme Motor Sports IMCA Modifieds and Jamey Kennicutt in the Karl Chevrolet Northern SportMods.
Feature Results
Stock Cars – 1. Mike Nichols; 2. Kyle Vanover; 3. Jason Rogers; 4. Casey Woken; 5. Chad Sterling; 6. Kyle Clough; 7. Jeff Whiting; 8. Jason Davis; 9. Casey Werkmeister; 10. Jason Rold; 11. Ozzie Romero; 12. Mikey Dancer; 13. Elijah Zevenbergen; 14. Dana Morgan; 15. Bob Hoing; 16. Bob Chalupa; 17. Kurt Trusty; 18. Kyle Prauner; 19. Zach Zentner; 20. Brendan Eilts; 21. Robert Walker; 22. Lloyd Meeske; 23. Zach Canas; 24. Trevor Schmidt.
Hobby Stocks – 1. Kyle Pfeifer; 2. Kyle Bond; 3. Jacob Wolsleben; 4. Sterling Sorenson; 5. Michael Zerr; 6. Nate Refior; 7. Larry Refior; 8. Tyson Canas; 9. Tyler Easterday; 10. Caleb Hetrick; 11. Jacob Olmstead; 12. Zach Olmstead; 13. Tyrel Smith; 14. Ryan Gardine; 15. Travis Kernick; 16. Chuck Ledbetter; 17. Brady Weinman; 18. Luke Wassom; 19. Jakob Egge.