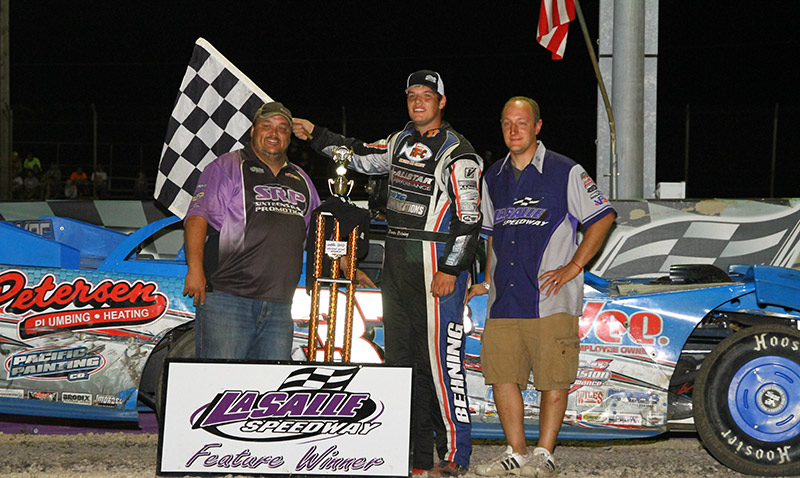 LaSALLE, Ill. (Aug. 1) – Three drivers making first-ever visits to LaSalle Speedway stood above the rest at the track's inaugural One Night Stand special Saturday evening.
Brunson Behning was fastest in a field of 19 IMCA Late Models and earned $2,000. Jeremiah Hurst prevailed in a field of 24 Xtreme Motor Sports IMCA Modifieds for a $1,000 feature win and a spot on the ballot for the Fast Shafts All-Star Invitational.
Winner of the Karl Chevrolet Northern SportMod feature was Jeff Steenbergen, who took home $400.
Behning had raced to his first win of the season on July 30 at Jackson County Speedway. He made it two checkers over three nights after setting fast time, topping his heat race and then drawing the pole for the 40-lap main event.
"I knew we had a strong car," said Behning, who now has Zach Frields heading his crew. "I was pretty confident going in, especially after getting the win at Maquoketa."
The front cars were quick to catch up with the back of the field. Behning was challenged briefly following a lap 25 caution, then put some distance on the pack following a lap 30 restart. No one had anything for the leader, who ran with traffic the last five times around the track.
"If they ever have another IMCA race, we'll be back," promised Behning, who took the win in the Tele-Dig Communications and Allstar Performance backed ride.
Hurst drew the outside pole start for the Modified 30-lapper. He ran the bottom line until catching a glimpse of Matt Werner, then moved to the faster higher line to deny the eventual runner-up.
"I loved LaSalle. It's an awesome place," the new Fast Shafts All-Star Invitational ballot qualifier said. "It's a great facility and the people there are great. The only thing I didn't get to try was their food."
Jake Strayer, Bob Dominacki and Bruce Hanford completed the top five.
Steenbergen started on the pole and led all 20 laps of the Northern SportMod main. He pulled away from the rest of the pack following the only caution on lap five and was never challenged, taking the checkers close to a straightaway in front of Phil Anderson.
Third went to Jeff Schmidt.
Feature Results
Late Models – 1. Brunson Behning; 2. Matt Ryan; 3. Travis Denning; 4. Nate Beuseling; 5. Joe Zrostlik; 6. Colby Springsteen; 7. Jonathan Brauns; 8. Andy Nezworski; 9. Gary Webb; 10. Donnie Pataska; 11. Eric Sanders; 12. Joe Ross; 13. Brian Meiners; 14. Shawn Mulvany; 15. Ryan Claeys; 16. B.J. Jackson; 17. LeRoy Brenner; 18. Mike Garland; 19. Ray Guss Jr.
Modifieds – 1. Jeremiah Hurst; 2. Matt Werner; 3. Jake Strayer; 4. Bob Dominacki; 5. Bruce Hanford; 6. Zeke Bishofberger; 7. Ray Bolliner; 8. Jamie Schmidt; 9. Brandon Durbin; 10. Brad Moring; 11. Jason Buss; 12. Joe Beal; 13. Chris Zogg; 14. Doug Curless; 15. Ben Hamburg; 16. T.J. Patz; 17. Kenny Kostenbader; 18. A.J. Ward; 19. Jason Pershy; 20. R.J. Gonzales; 21. Jeff Larson; 22. Scotty Powell; 23. Milo Veloz Jr.; 24. Matt Irwin.
Northern SportMods – 1. Jeff Steenbergen; 2. Phil Anderson; 3. Jeff Schmidt; 4. Jared Waterman; 5. Bob Silaggi; 6. Brandon Jewell; 7. Jaden Fryer; 8. Donnie Cole; 9. Jacob Beal.