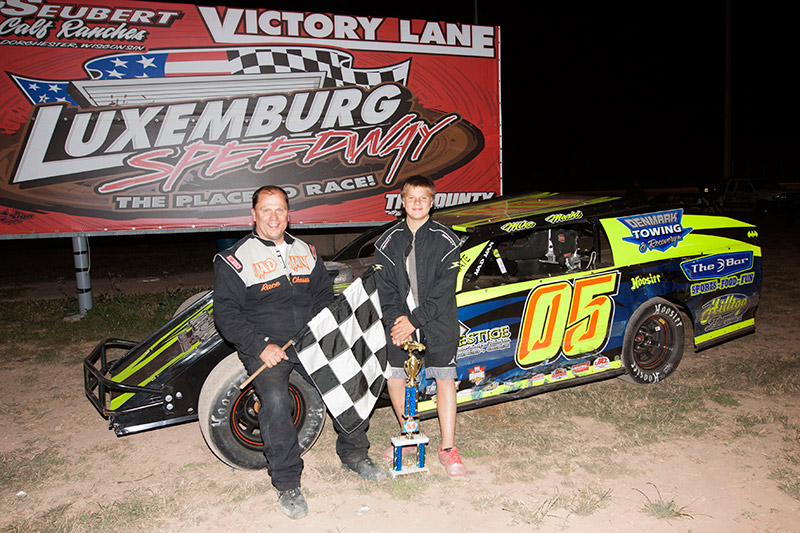 By Tom Wagner
LUXEMBURG, Wis. (July 31) – Friday was Hall of Fame night at Luxemburg Speedway and perfect night for one of the track's stars of the past to shine again.
Mike Mashl, a Luxemburg Xtreme Motor Sports IMCA Modified champion nearly two decades ago, powered away to his first feature win of the season on a night that included the induction of three new members into the Speedway's Hall of Fame.
When he ran the circuits full time, Mashl was one of the top IMCA Modified competitors in the area, with a resume that included the 1997 Luxemburg championship.  Back behind the wheel on a limited basis now, he was making only his second run at Luxemburg this season.
The early feature pace was set by a guy working on his fourth decade of competition, Dave Zeit­ler, who led the first two laps before a slip high on the second turn of the third lap allowed Mashl to shoot by on the low line and take command.
For the most part, that was the last challenge he faced on the way to his first Luxemburg feature win of the year.  Focus shifted back in the field as title contenders Shawn Kilgore and Josh Long began to work forward.
It was a steady march for Kilgore, taking fourth on the ninth lap, then third one lap later. He passed Zeitler for runner-up honors with four to go but without the aid of a caution to erase Mashl's margin, he had no chance to mount a serious challenge for the win.
Long passed Zeitler with two laps to go to take third.
Also taking home trophies on the night were Barry Van Straten in the IMCA Sunoco Stock Cars, Todd Wiese in the Karl Chevrolet Northern Sport Mods and Cody Junio in the IMCA Sunoco Hobby Stocks.
The three new Hall members were inducted by promoter Gene Mathu at intermission. The 2015 class includes Ken Tebon, Joe Verdegan and Mike Rohr.