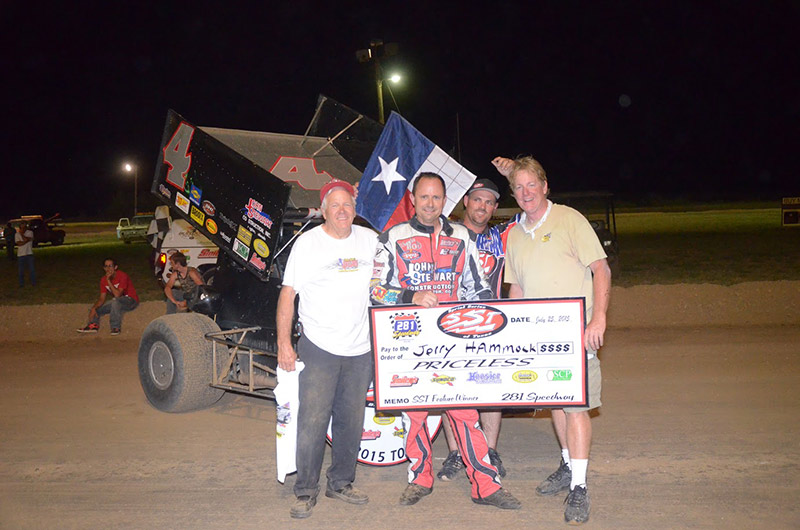 STEPHENVILLE, Texas (July 25) – Jerry Hammock didn't waste much time getting to the front Saturday night at 281 Speedway.
The sixth starting Hammock drove to the lead half a lap into the Sprint Series of Texas main event at 281 Speedway. He stayed in front 'til the end of a 20-lapper that ran caution-free.
"The two cars in front of me went to the cushion and I went to the middle," Hammock summarized after the win, his IMCA Eagle Motorsports RaceSaver Sprint Car tour second of the season.
Mike Herring was second and Reagan Reed was third. Completing the top five were Gary Kelley and Trevor Reed.
Feature results – 1. Jerry Hammock; 2. Mike Herring; 3. Reagan Reed; 4. Gary Kelley; 5. Trevor Reed; 6. Adam Barr; 7. Dustin Woods; 8. Matt Etzelmiller; 9. Mark Klis; 10. David Garland; 11. Craig Woods; 12. Jason Howell; 13. Josh Hanna; 14. David Munden; 15. Bud Hanna; 16. Drew Wright; 17. Matt Holt; 18. Bob Odom; 19. Ed Keaton; 20. Danny Merrell.