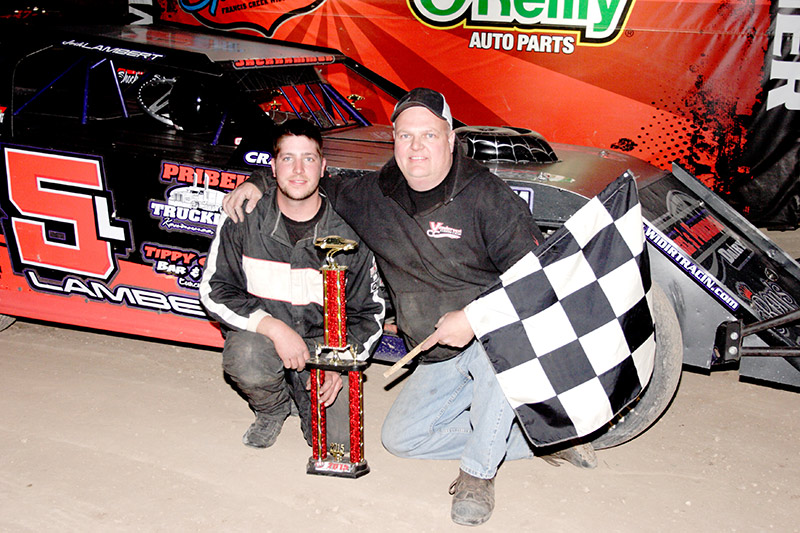 By Edward Anschutz
STURGEON BAY, Wis. (July 5) – Josh Lambert scored the biggest win of his Karl Chevrolet North­ern SportMod career, outdueling defending track champ Chris Budzban in Sunday's $1,000 to win Soukup Memorial at Thunderhill Raceway.
Budzban drew a front row start for the 40-lapper, along with Kyle Raddant, and quickly estab­lished himself as the car to beat, distancing himself from Bernie Reinhardt and Jarred Van­Laanen.
Following a lap five restart, Budzban set a blistering pace as Lambert battled Reinhardt and Van­Laanen for the runner-up spot. The race stayed green all the way to the competition caution on lap 20 with Budzban as the race leader.
Budzban picked up where he left off when the race went green again but Lambert kept pace and began to chip away at the lead. A caution set up what became a nine-lap dash to the checkers. Budzban stayed true to running the low line and Lambert used this to his advantage, leaping by Budzban on the outside as the race resumed.
Lambert left the competition in the dust, leading the remaining laps en route to a $1,000 payday. For a second year in a row Budzban had to settle for second. Newcomer Wyatt Block Jr. looked impressive in his first-ever visit to the bullring, placing third. Last year's Soukup Memorial winner Scott Boyea raced from 10th to finish fourth and VanLaanen completed the top five.
Other winners were Tyler Hackett in the Xtreme Motor Sports IMCA Modifieds, Shawn Havel in the IMCA Sunoco Stock Cars and C.J. Weckler in the IMCA Sunoco Hobby Stocks.
Feature results – 1. Josh Lambert; 2. Chris Budzban; 3. Wyatt Block; 4. Scott Boyea; 5. Jarred VanLaanen; 6. Brian Bruechert; 7. Bernie Reinhardt; 8. Randy LeMieux Jr.; 9. Dennis Miesler; 10. Ja­cob Zellner; 11. Tom Stark; 12. Troy DeGrave; 13. Cody Rass; 14. Tracy Wassenberg; 15. Ryan LeMieux; 16. Jake Mauer; 17. Connor Iverson; 18. Martin Kelsey; 19. Kyle Raddant; 20. Shawn Umentum; 21. James Iverson; 22. Rick LeMieux; 23. Dean Mauer.