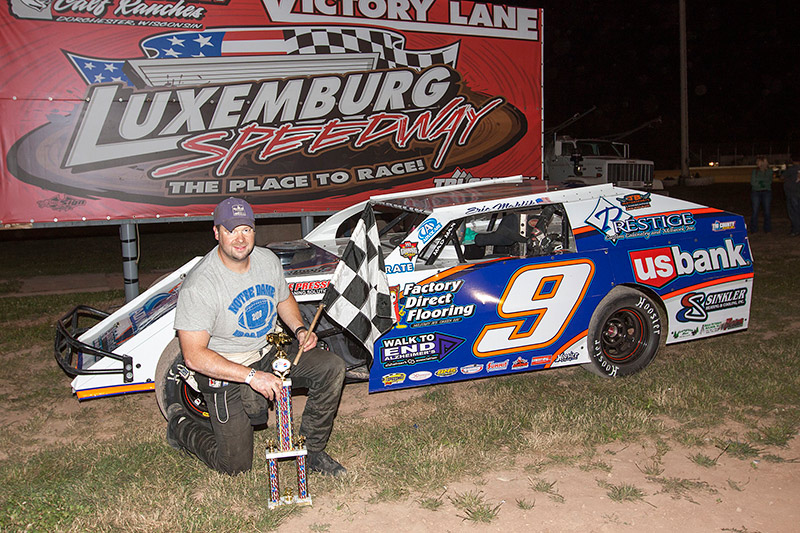 By Tom Wagner
LUXEMBURG, Wis. (July 3) – They may have been visitors, guests or spoilers, but by the end of the night, you could call them winners, too.
Keeping with the theme of 4th of July road trips, visiting teams nearly dominated victory lane Fri­day night at the Luxemburg Speedway.
Once the green flag flew, that was pretty much the last the rest of the Xtreme Motor Sports IMCA Modified field saw of Erik Mahlik.
The focus shifted to second, with Josh Long grabbing the position from James Tebon at the mid-point.  Long did solidify his hold on the spot, but without a caution, had no chance to real in the departed Mahlik.
The night's closest feature finish came in the IMCA Sunoco Stock Cars as Jeremy Jauquet sur­vived a wild final corner scramble to record his first feature win in the division.
He took the lead on lap one, but was literally under pressure every lap and ultimately prevailed in a three-wide race to the finish line.
One driver who didn't follow the night's script was Marcus Moede in the IMCA Sunoco Hobby Stocks. He took the lead from Dean Anhalt early en route to his first Luxemburg win of the sea­son. In the process, he was able to chip a few points away from division leader Dan VanPay's advantage in the title chase.