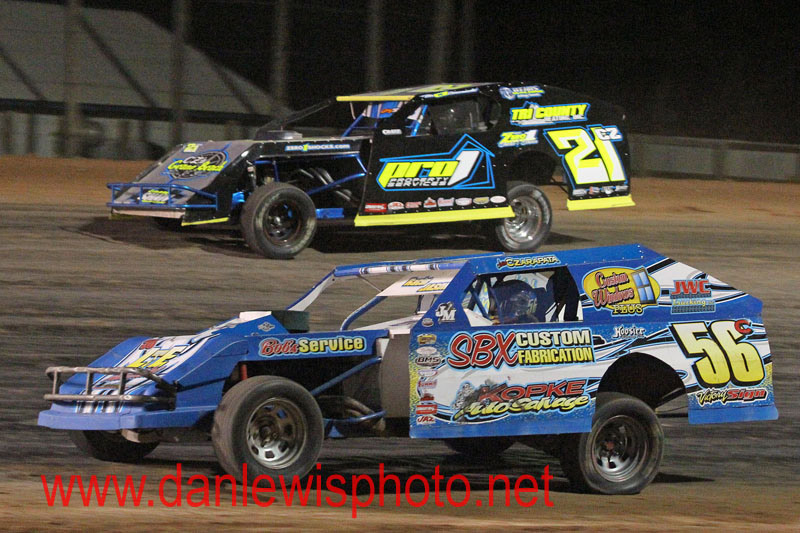 By Greg Aregoni
LUXEMBURG, Wis. (June 26) – While cousins Jason Czarapata and Brandon Czarapata have won on the same night many times before, Friday was certainly one of their mutually richer nights at the race track.
Jason Czarapata bagged the $5,000 top prize at Luxemburg Speedway's Friday night special for Xtreme Motor Sports IMCA Modifieds while Brandon Czarapata was the $750 IMCA Sunoco Stock Car winner.
Jason Czarapata earned his pole position for the IMCA Modified feature by winning a six-car, eight-lap dash earlier in the evening. Front row starter and former national champion Jordan Grabouski was slated to start on the front row also but mechanical woes forced his night to be done.
Mike Mullen, who topped the $10,000 to win Clash at the Creek main event at 141 Speedway the night before, moved alongside Czarapata at the drop of the green flag.
Mullen quickly fell in line behind Czarapata before a lap six caution slowed the pace. Czarapata had his open motor hooked up on the glazed over track and gradually pulled away over the remain­der of the 35-lapper. The win landed him on the ballot for the Fast Shafts All-Star Invita­tional.
Searching for a faster line, Mullen had to contend with Tim Czarneski for the second spot.
The duo put on a clinic in side-by-side racing with Czarneski able to grab second occasionally at the line. Mullen was able to take command of second in the final laps. Czarneski, 11th starting Josh Long and 13th starting Kyle Strickler completed the top five.
Brandon Czarapata moved low and grabbed second just as the only caution of the race would fly on lap 20 of the Stock Car feature.
Shawn Havel got a good restart but Czarapata got a better one. Havel ran the middle of the track and allowed Czarapata the bottom to himself. Czarapata grabbed the lead on the first lap of the restart and never looked back picking up the $750 for the win.
Havel finished second with Dustin Loberger coming home third. Dave Bouche charged to fourth late. Rod Snellenberger was fifth.
Kelsy Hayes passed Dennis Miesler with two laps left and drove to her third straight Karl Chevro­let Northern SportMod victory in as many nights.
Hayes has earned $1,950 for those checkers, the latest of which came ahead of Miesler and hard-charging Todd Wiese.
One hundred and thirty cars, including 58 Modifieds, vied Friday at Luxemburg.
Modified feature results – 1. Jason Czarapata, Pulaski; 2. Mike Mullen, Seymour; 3. Tim Czarneski, Denmark; 4. Josh Long, Little Saumico; 5. Kyle Strickler, Mooresville, N.C.; 6. Sean Jerovetz, Little Suamico; 7. Shawn Kilgore, New Franken; 8. Eric Arneson, Oconto Falls; 9. Benji LaCrosse, Green Bay; 10. Jeff Taylor, Cave City, Ark.; 11. James Tebon, Algoma; 12. Jon Snyder, Ames, Iowa; 13. Darin Duffy, Urbana, Iowa; 14. Brian Mullen, Seymour; 15. Kyle Brown, State Center, Iowa; 16. Justin O'Brien, West Union, Iowa; 17. Johnny Whitman, DePere; 18. Jay Matthias, DePere; 19. Brad Lautenbach, New Franken; 20. Russ Reinwald, Juneau; 21. Hunter Marriott, Brookfield, Mo.; 22. Paul Stone, Winston, Calif.; 23. Mark Joski, Denmark; 24. Jordan Grabouski, Beatrice, Neb.
Heat winners were Czarapata, O'Brien, Grabouski, Long, Czarneski, Whitman and Duffy. "B" feature winners were Long, Whitman, Strickler, Matthias and Brown.