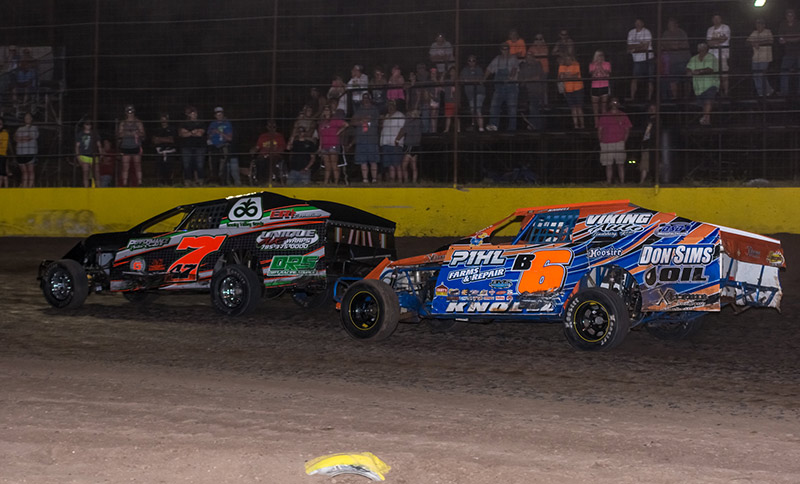 By Dusty Wiegert
SALINA, Kan. (June 26) – For some racers, Friday night it was only the second or third time for their division to race due to the weather. But from the action on the track you'd of thought it was already well into the season as five first time winners for 2015 emerged.
Last season, Corey Burch finally picked up his first feature win near the end of the year. This sea­son it only took him three races to do the same in the 1st Class Chassis IMCA Modified division. Burch methodically moved from fourth to first and set sail for the checkered flag despite Brian Knoell closing in late. Knoell would have to settle for second while Jesse Richter and Joe Cleve­land finished off the top four. Burch was also in for the clean sweep after he won his qualifying heat race.
The Xtreme Motor Sports IMCA Northern SportMod division was in for a double on the night. The first race out was the make-up feature for May 22, in which Daniel Gottschalk scored a decisive victory. Later in the program Fred Traskowsky would come home with a big feature win in a race of attrition, seeing only a handful of cars finishing. Traskowsky also pulled out the broom with the clean sweep after winning his heat race also. Gottschalk won the other heat.
Aaron McBride worked his way to a big win in the Budweiser IMCA Hobby Stock division. He pulled away from multiple-time track champion Mike Traskowsky to score the victory with Traskow­sky, Eric Cross, and Kelly Pihl finishing out the top four. McBride also had the broom out for the sweep, winning the heat race he participated in also. John Steele and Pihl won the other two heats.
Completing the sweeps for the night was Paco Montague, who picked up the win in the M&H Mo­tors IMCA Sport Compact division after a post-race disqualification. Art Bird, Bailey Glavin, and Ashlyn Bird would round out the top four.
Racing continues next Friday July 3rd with the 5th Annual Topless Modified Challenge presented by Wholesale Fireworks. The IMCA Modifieds will be racing for a cool $1,000 to win while the IMCA Northern SportMods will show down for $500. Both divisions will be required to race top­less. Tops will be required for IMCA Hobby Stocks.
30