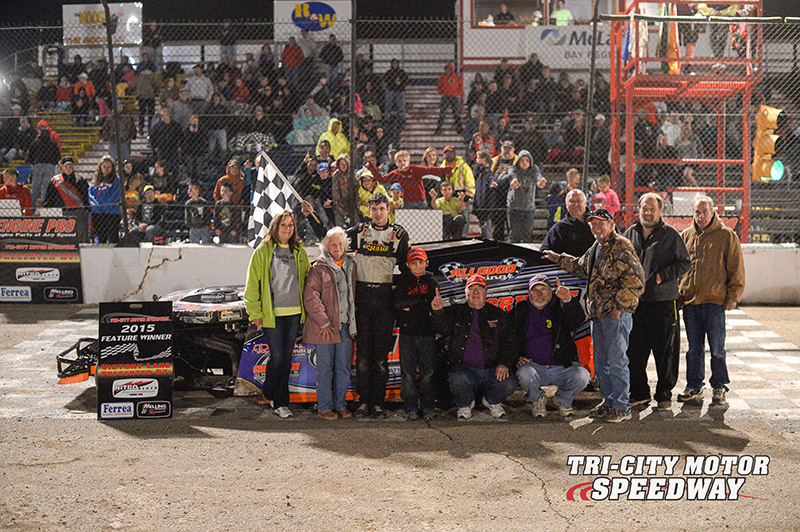 AUBURN, Mich. (June 19) – Heath Grizzle put the sizzle into Tri-City Motor Speedway's Greased Pig 5.0 special.
The Michigan native and Arkansas transplant regained the lead from Myron DeYoung in topping the $1,055 to win Fast Shafts All-Star Invitational ballot qualifier for Xtreme Motor Sports IMCA Modifieds.
DeYoung, still in pursuit of his 100th career win in the sanctioned division, was close behind in second. Joe Fowler, Gary VanderMark and Ken Zeigler completed the top five.
Grizzle drew the pole start and led the first seven circuits before DeYoung used the lower line to get past.
Two laps later, Grizzle found an opening and took the lead right back. DeYoung and A.J. Ward were close behind for much of the 37-lapper.
Grizzle had a DNQ and a third to show for his two previous outings at Tri-City this season. He was headed home to Arkansas but planned a return trip to Michigan for Crystal Motor Speedway's Great Lakes Nationals in September.
The fifth annual Greased Pig had been rescheduled from June 12 because of inclement weather.
Feature results – 1. Heath Grizzle; 2. Myron DeYoung; 3. Joe Fowler; 4. Gary VanderMark; 5. Ken Zeigler; 6. Rusty Zeigler; 7. Scott Dann; 8. Don Sautter; 9. Mitchell Hunt; 10. A.J. Ward; 11. Kody Johnson; 12. Brenten DeYoung; 13. Chad Wernette; 14. Chaz Pray; 15. Chris Cohoon; 16. Toby Steele; 17. Gavin Hunyady; 18. Tanner Pray; 19. Matt Szecsodi; 20. Frank Evans III; 21. Craig Vance.