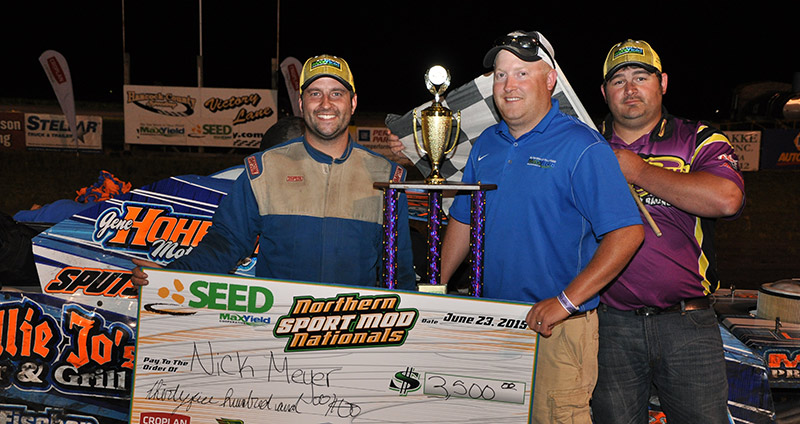 BRITT, Iowa (June 23)  – Even though he'd led the first 15 laps, Nick Meyer's crew was sure they could make his car even faster for the second half of Tuesday's MaxY­ield Seed IMCA Northern SportMod Nationals at Hancock County Speedway.
After changing four tires, tightening the car up and topping off the tank during the mandatory pit stop at midway, Meyer proved them right. He led to the checkers and took home a check for $3,500.
"We won on opening night at Spring Nationals in Beatrice and that was big, but this win is bigger," said Meyer. "It's definitely my biggest win money-wise."
Eighth in the special for Karl Chevrolet Northern SportMods in 2013 and seventh last summer, Meyer started the 30-lapper from outside row one.
Three tries were needed to get the initial start in and a handful of yellows came out before the break at halfway but the light stayed green for the final 15 circuits.
Meyer made the most of the lower line. Lapped traffic stayed higher on the oval and didn't impede his drive to the finish.
George Nordman, Tim Rupp, Nate Chodur and Jake Sachau completed the top five. Cody Knecht started 18th, finished eighth and pocketed the $100 MaxYield Seed hard charger award.
Meyer earned $2,500 for the victory, plus $500 bonuses for having won previously at Britt and racing at least three times at Hancock County this season.
His Northern SportMod Nationals win makes Meyer eligible for another $500 bonus at next year's event.
"I can't wait to come back and run for the full four grand," he said.
Other feature winners were Clint Hatlestad in the Xtreme Motor Sports IMCA Modifieds, Derek Green in the IMCA Sunoco Stock Cars, Scott Dobel in the IMCA Sunoco Hobby Stocks and Devin Jones in the Mach-1 Sport Compacts.
Northern SportMod Nationals feature results – 1. Nick Meyer, Whittemore; 2. George Nordman, Mason City; 3. Tim Rupp, Cherokee; 4. Nate Chodur, Lake Mills; 5. Jake Sachau, Denison; 6. Brandon Williams, Des Moines; 7. Jared Boumeester, Waseca, Minn.; 8. Cody Knecht, Whittemore; 9. Austin Schrage, Cresco; 10. Levi Chipp, Latimer; 11. Jake McBirnie, Boone; 12. Shane Swanson, Forest City; 13. Nate Whitehurst, Mason City; 14. Clay Evans, Paullina; 15. Johnathon Logue, Boone; 16. Ben Schultze, Algona; 17. Zack Smidt, Mason City; 18. Doug Cook, Algona; 19. Brady Joynt, Webb; 20. Greg Sidles, Emmetsburg; 21. Phil Ricke, Wesley; 22. Logan Swearingen, Thompson; 23. George Gilliland, Lehigh; 24. Mathew Hanson, Klemme; 25. Colby Fett, Algona; 26. Cole Ignaszewski, New Richland, Minn.; 27. Chris Myhre, Burt; 28. Doug Smith, Lake City; 29. Nate Albrant, Thompson.