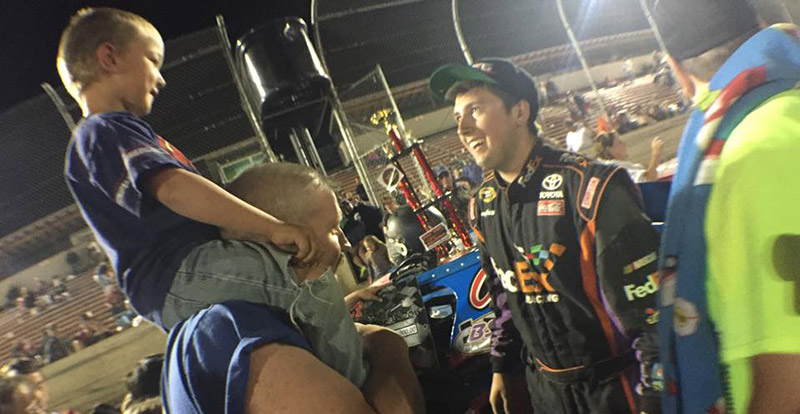 By Ben Deatherage
LEBANON, Ore. (June 20) – After catching Jon DeBenedetti, Collen Winebarger raced to a $1,000 payday in the final event of the Wild West Modified Shootout at Willamette Speedway.
Once in front, Winebarger cruised to the Xtreme Motor Sports IMCA Modified victory and a spot on the ballot for the Fast Shafts All-Star Invitational. Jesse Williamson clinched his third career tour title in four years with a 10th place showing.
DeBenedetti began building what appeared to be a comfortable lead before Winebarger drove by coming to the stripe on lap eight.
Winebarger took off from the main pack from that point. A long green flag run that lasted 29 cir­cuits put traffic into the mix but Winebarger would handle the traffic with ease.  A caution on lap 30 bunched up the field one last time with no lapped traffic between the frontrunners.
Winebarger maintained his lead following the ensuing restart and ran in front the rest of the way for his career first Wild West Modified Shootout victory and fourth win at Willamette in 2015.
North Dakota's Travis Peery was second while Ryan Gaylord, from Colorado, was third.  The rest of the top five would be made up of Salem chauffeur Jeremy Shank was fourth in earning hard charger honors the second straight night and DeBenedetti was fifth.
A total of forty cars were registered from Oregon, Washington, California, Arizona, Colorado, Mon­tana and North Dakota.
Feature results – 1. Collen Winebarger; 2. Travis Peery; 3. Ryan Gaylord; 4. Jeremy Shank; 5. Jon DeBenedetti; 6. Mark Wauge; 7. Nick Trenchard; 8. Alex Stanford; 9. Jerry Schram; 10. Jesse Williamson; 11. B.J. Wild; 12. Joe German; 13. Zach Olson; 14. Monte Bischoff; 15. Rob Ireland; 16. Brett James; 17. Craig Cassell; 18. Troy Heupel; 19. Troy Morris; 20. Joey Price.