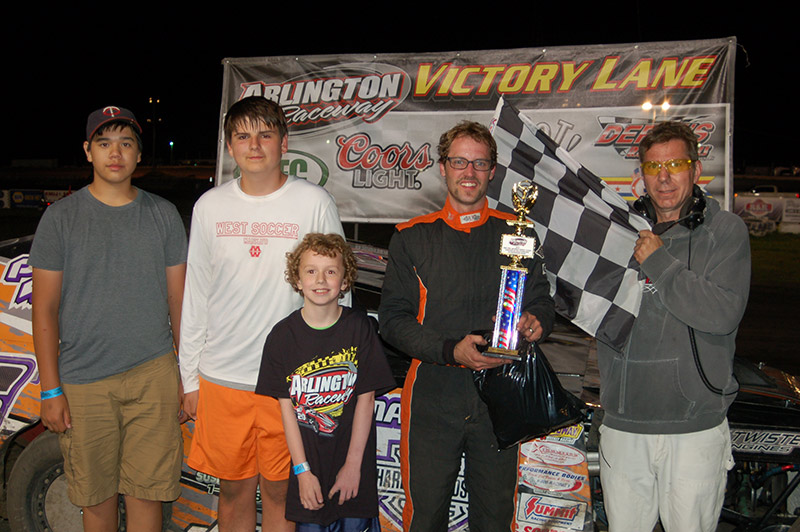 ARLINGTON, Minn. (June 20) – Billy Johnson won his first feature race of the year in the MN 93 IMCA Modified division Saturday at Arlington Raceway.
Nate Zimmerman had the pole start but spun on lap two, turning the lead over to Johnson, who was challenged first by Dayton Magers and then by 10th starting Clint Hatlestad.
Hatlestad almost succeeded in catching Johnson but ran out of time and settled for second. Mag­ers was third.
Matt Speckman and Brent Uecker traded the front spot in the B & B Racing Chassis IMCA Stock Car feature over the first six laps. Jeff McCollum got into the mix but ended up chasing Speckman and Uecker across the stripe.
Dwain Wilmes led the first 12 laps of the 95.7 the Rock IMCA RaceSaver Sprint Car feature in a caution-slowed show.
With only three laps left, Jeremy Schultz and then Michael Stien and Jesse Cripe took the high side around Wilmes. Schultz, Stien and Cripe ended 1-2-3.
There were four different leaders in the Unhinged Pizza IMCA Northern SportMod feature. Dustin Engelke, Eric Larson and Jason Schroeder led before 11th staring Matt Looft took charge.
Shawn Harms was the early leader in the Eckblad Trucking IMCA Hobby Stock race but soon Mike Vogt took over. Halfway through, Cory Probst got around Vogt to take the lead and win.
Nate Coopman was the Coors Light IMCA Sport Compact winner after taking the lead on the fifth lap.