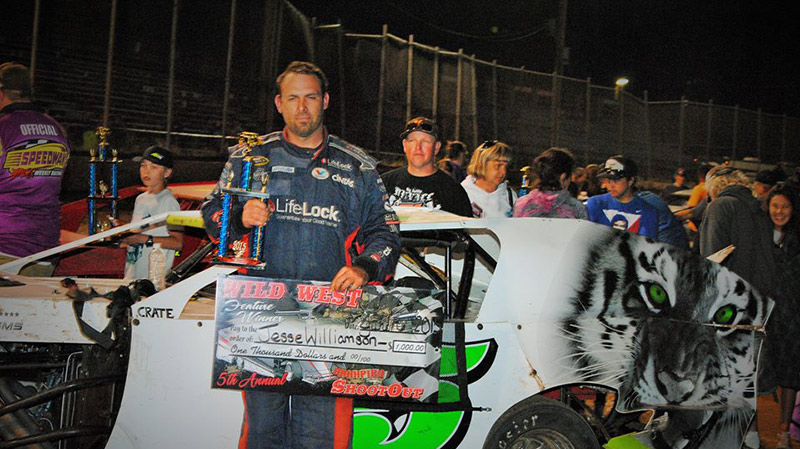 By Ben Deatherage
COTTAGE GROVE, Ore. (June 16) – A two-time tour champion became the first two-time winner in the 2015 Wild West Modified Shootout Tuesday at Cottage Grove Speedway.
Jesse Williamson rallied to win the fourth installment of the Xtreme Motor Sports IMCA Modified tour, and $1,000. He'd also topped the opener at Southern Oregon Speedway on June 13.
Forty-three cars from eight states and Canada were on hand for the Tuesday show. Californian Troy Foulger was the early leader before giving way to Williamson on lap five.
Williamson appeared to have checked out and had the race won until going off of turns three and four on lap 16. He got back on the track but relinquished the front spot to defending champ Alex Stanford.
Cautions took lapped traffic out of play while Stanford continued to lead and Williamson worked his way through the field.
Williamson found his way around Stanford on the 28th circuit, just before the caution flag came out. Shortly after the restart, Mark Carrell came out of nowhere on the bottom of the track and seized the lead on lap 30.
Unfortunately for Carrell, he spun in turn two and got collected up with other cars. resulting in a premature end to his night.
It was Williamson's turn to inherit the lead and he held off North Da­kota pilots Travis Peery and hard charger Troy Heupel for the win. Stanford was fourth and Craig Hanson took fifth.
The Wild West Modified Shootout gets back after it Wednesday, June 17 at Sunset Speedway Park in Banks.  SSP will offer a $25 per car load special for the night.  Racing is scheduled to get underway at approximately 6:30 p.m.
Feature results – 1. Jesse Williamson; 2. Travis Peery; 3. Troy Heupel; 4. Alex Stanford; 5. Craig Hanson; 6. Braedon Hand; 7. Scott Lenz; 8. Troy Foulger; 9. Steven Sturdevant; 10. Collen Winebarger; 11. Mark Carrell; 12. Brad Martin; 13. Mark Wauge; 14. Bricen James; 15. Danny Lauer; 16. Ryan Gaylord; 17. Curtis Towns; 18. Jeremy Shank; 19. Nick Trenchard; 20. Paul Stone.