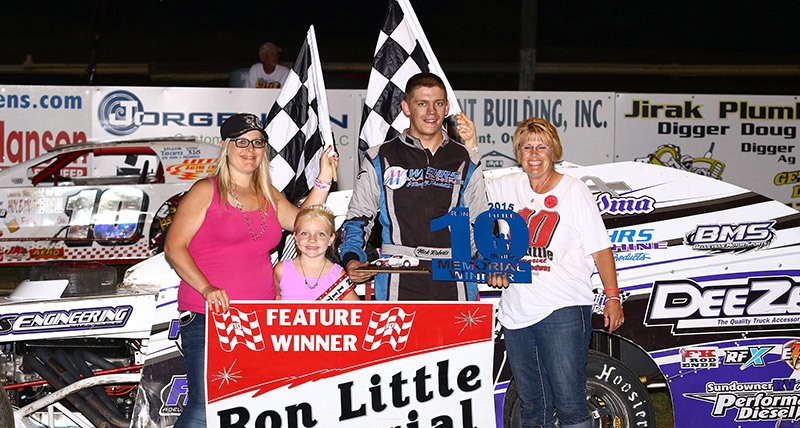 By Josh Reynolds
STUART, Iowa (June 14) – Nick Roberts and Josh Pruitt were $1,000 feature winners in front of a packed house Sunday at Stuart Speedway.
Roberts topped the rescheduled 15th annual Ron Little/Bones Memorial for Xtreme Motor Sports IMCA Modifieds, earning a spot on the ballot for the Fast Shafts All-Star Invitational. Pruitt paced the IMCA Sunoco Stock Cars' Stew Hansen Dodge Shootout event.
Jacob Murray squeezed through to take the early Modified lead. Three early cautions slowed the pace but once the green flew again, Murray stayed ahead of Roberts and Todd Shute with Luke Wanninger lurking around the bottom of the track in fourth.
Lap 15 saw Wanninger get past Shute for third. Roberts began to gain ground on the bottom and on lap 19 snagged the top spot. The last caution flew on lap 21, setting up a four-lap shootout for the win and Roberts was up to the task in taking the checkers and the $1,000 top prize.
Wanninger took the runner up spot with Murray third, Shute fourth and Jimmy Gustin fifth.
Josh Daniels led the first time around in the Stock Car feature with Pruitt moving by on the top side on lap two. Jay Schmidt followed Pruitt into second with Devin Smith passing Daniels for third a lap later.
After a caution on lap four, Brian Blessington got himself into third. The top three remained the same for the rest of the race as Schmidt and Blessington fought tooth and nail for second, but in his career first Stock Car feature at Stuart, Pruitt went on to the win and the $1,000 prize.
Blessington prevailed in the battle for second with Schmidt third, Marcus Fagan fourth and Bran­don Pruitt fifth.
Clint Luellen won the Karl Chevrolet Northern SportMod feature and Austin Luellen topped the IMCA Sunoco Hobby Stock main. Cory Flanigan led the distance in collecting the Mach-1 Sport Compact victory.
Feature Results
Modifieds – 1. Nick Roberts; 2. Luke Wanninger; 3. Jacob Murray; 4. Todd Shute; 5. Jimmy Gustin; 6. Jeff Joldersma; 7. Craig Reetz; 8. Cole Ferguson; 9. Josh Most; 10. Jared Hansen; 11. Trevor Baker; 12. Scott Bash; 13. Jeff Wiggins; 14. Jason Murray; 15. Bob Daniels; 16. Josh Gil­man; 17. Ron Bash; 18. Dylan Book; 19. Matthew Webb; 20. Matthew Meinecke.
Stock Cars – 1. Josh Pruitt; 2. Brian Blessington; 3. Jay Schmidt; 4. Marcus Fagan; 5. Brandon Pruitt; 6. Casey Greubel; 7. Robert Stofer; 8. Josh Daniels; 9. Devin Smith; 10. Derrick Rohe; 11. Robert Merkle; 12. Bryan Snell; 13. Alex Kading; 14. Joseph Luethje; 15. Chris Pruitt; 16. Scott Bailey.
Northern SportMods  – 1. Clint Luellen; 2. Dusty Masolini; 3. Lynn Brockett; 4. Matt Hays; 5. Chase Rudolf; 6. Shawn Cooney; 7. Shawn Kralik; 8. Jerry Hinton; 9. Arie Schouten; 10. Kyle Tan­ner; 11. Colton Nelson; 12. Kody Havens; 13. David Schwartz; 14. Jeremy Hodupp; 15. Jason Ma­son; 16. Dusti Carlisle; 17. Hunter Weber.
Hobby Stocks – 1. Austin Luellen; 2. Shannon Anderson; 3. John Watson; 4. Cory Adams; 5. Buck Schafroth; 6. Eric Stanton; 7. Solomon Bennett; 8. Jordan Peters; 9. Tim Barber; 10. Matt Tiernan; 11. Tyson Overton; 12. Bryan Keeney; 13. Gina Greubel; 14. Wayne Purvis; 15. Korbin Nourse; 16. Andy Hick; 17. Steve Roberts.
Sport Compacts – 1. Cory Flanigan; 2. Jacob Reiter; 3. Curtis Miller; 4. Jacob Peters; 5. Kevin Staack; 6. Randy Rush; 7. Sabrina Killen; 8. Jacob Mertz.