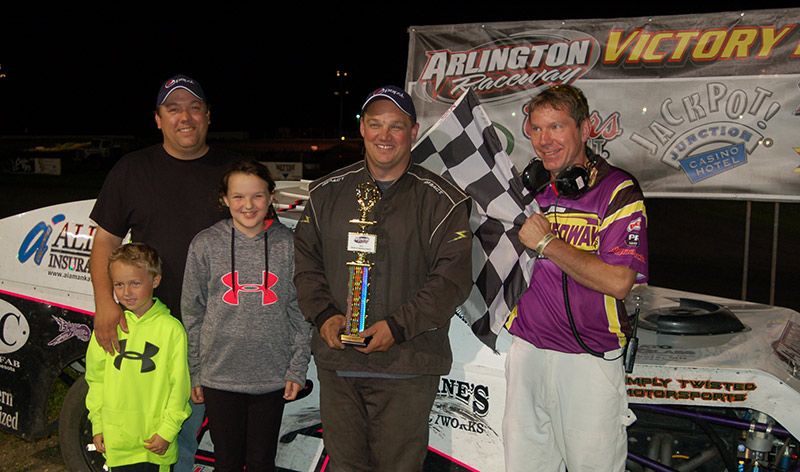 ARLINGTON, Minn. (June 13) – Chad Porter picked up his first feature win of the season in the MN 93 IMCA Modified feature Saturday at Arlington Raceway.
Jeff Coon led the first three laps but spun out and relinquished the lead to Porter. He was half a lap ahead of the rest of the field at the end of the race. Clint Hatlestad took second, passing Billy Johnson on the white flag lap.
Andrew Westphal took the lead from the pole in the 95.7 the Rock IMCA Sprint Car feature and led the first nine laps with Kyle Sargent on his tail. Westphal encountered engine problems, pull­ing into the infield and giving the lead and win to Sargent, his first in the division. Jordan Wilmes was second and Gary Serbus was third.
The B&B IMCA Stock Car feature saw six different leaders. The early leader was pole sitter Dave Moriarty. On lap four, Brent Reierson passed Moriarty but hot on his tail was Dean Cornelius. He only led one lap with hotshoe Matt Speckman taking the front away from him on the seventh lap.
Speckman's tire went down on the 10th circuit, sending him to the pits. Dan Mackenthun took over the lead for one lap until he got too high in turn four. Jeff McCollum slid by him on the low side to take the lead and win.
Kyren Porter took the lead on the Coors Light IMCA Sport Compact feature but couldn't hold off Nate Coopman after an early restart. Coopman went on to win the event with Porter second ahead of Alan Lahr.
Cory Probst won the Eckblad Trucking IMCA Hobby feature taking the lead on the second lap and holding off Brian Loscheider for the remaining laps. Mike Christensen of Hutchinson took third.