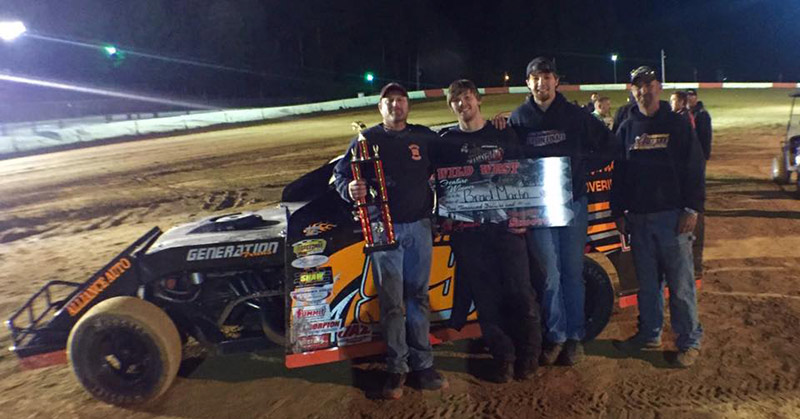 By Ben Deatherage
COOS BAY, Ore. (June 15) – The third night of the 2015 Wild West Modified Shootout ended with a third different driver in victory lane.
Brad Martin got the best of the Xtreme Motor Sports IMCA Modified field at Coos Bay Speedway, taking the $1,000 checkers and Fast Shafts All-Star Invitational ballot berth despite the best ef­forts of Danny Lauer.
The win was Martin's IMCA career first. Thirty-three drivers from eight states and Canada vied at Coos Bay.
Martin drew the pole and maintained the lead following a handful of cautions throughout the first 10 laps. As the green flag run continued, he started to catch up with the back of the pack. While struggling to handle traffic, Martin had to fight off the ultra fast Lauer.
Lauer beat Martin to the line on lap 27 but couldn't secure the position. The front two went back and forth in a seesaw battle that was eventually resolved when Martin worked his way through the lapped cars.
California drivers filled out the rest of the top five. Lauer finished a close second while Paul Stone was third, defending tour champion Alex Stanford was fourth and Troy Foulger was fifth.
Cottage Grove Speedway is the next stop for the tour on Tuesday, June 16.
Feature results – 1. Brad Martin; 2. Danny Lauer; 3. Paul Stone; 4. Alex Stanford; 5. Troy Foulger; 6. Jesse Williamson; 7. B.J. Wild; 8. Ryan Gaylord; 9. Nick Trenchard; 10. Scott Lenz; 11. Troy Morris; 12. Joe German; 13. Zach Olson; 14. Rob Ireland; 15. John Campos; 16. Jesse Bailey; 17. Joey Price; 18. Mark Wauge; 19. Collen Winebarger; 20. Shawn Natenstedt.