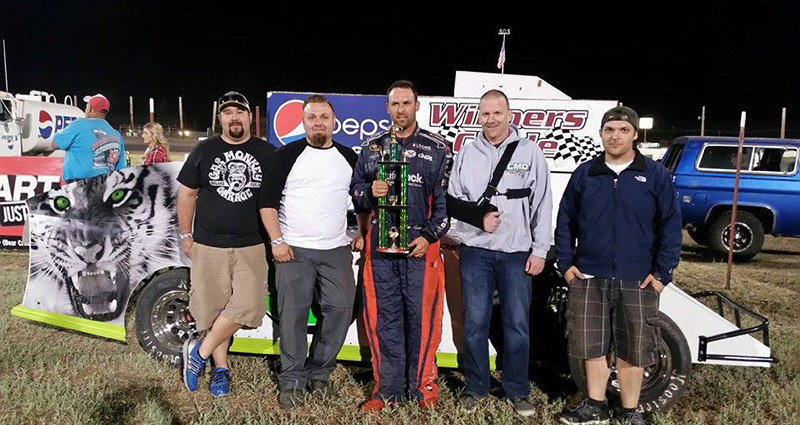 By Ben Deatherage
WHITE CITY, Ore. (June 13) – Jesse Williamson took a big first step toward his career third Wild West Modified Shootout title by winning the opening night feature Saturday at Southern Oregon Speedway.
Williamson grabbed the top spot and seemed to have the Xtreme Motor Sports IMCA Modified field covered before things got a little interesting toward the end.
Several cautions kept the field bunched but Williamson stayed out front and took the $1,000 checkers, his tour career seventh.
Jerry Schram was second and defending Shootout champion Alex Stanford was third. Collen Winebarger and Nick Trenchard completed the top five.
Williamson, champion of the 2012 and 2013 Shootouts, was already a candidate for the Fast Shafts All-Star Invitational. Forty Modifieds from half a dozen states vied Saturday.
The Wild West Modified Shootout heads south for its only race in the Golden State of California on Sunday, June 14. Yreka's Siskiyou Motor Speedway hosts the second of seven tour stops.
Feature results – 1. Jesse Williamson; 2. Jerry Schram; 3. Alex Stanford; 4. Collen Winebarger; 5. Nick Trenchard; 6. Joe German; 7. Danny Lauer; 8. Monte Bischoff; 9. Mark Wauge; 10. Ryan Gaylord; 11. Craig Cassell; 12. Zach Fettinger; 13. Brad Martin; 14. Rob Ireland; 15. Kinzer Cox; 16. Shawn Natenstadt; 17. John Campos; 18. Travis Peery; 19. Brian Poppa; 20. Jon DeBenedetti.