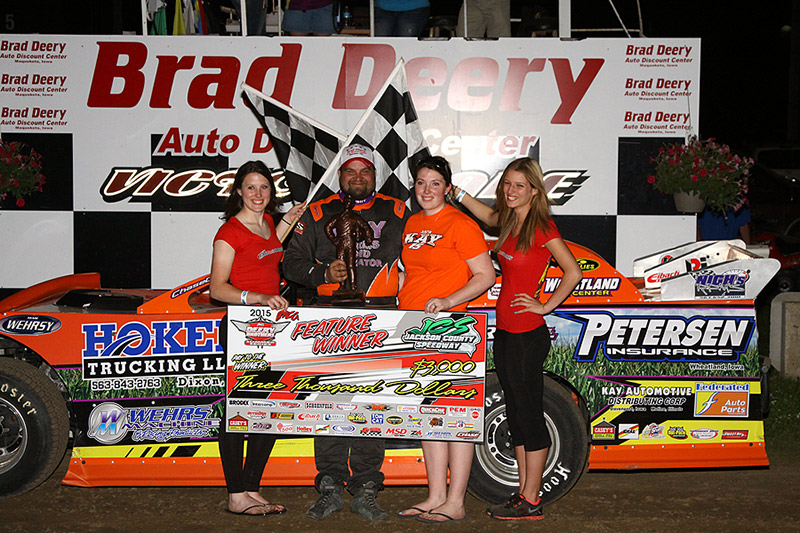 MAQUOKETA, Iowa (June 9) – Justin Kay's third Deery Brothers Summer Series feature win of the season put him in a familiar place: Back on top of point standings for the IMCA Late Model tour.
Kay passed Tyler Droste and pole starter Dan Shelliam for the lead midway through Tuesday's 40-lap main event at Jackson County Speedway. Two late cautions kept lapped traffic from becom­ing an issue and Kay motored to the $3,000 victory, his tour career 12th.
Shelliam gained second back from Droste following the final restart, with three laps left. The run­ner-up finish was his career best.
Droste was third, Joe Zrostlik a career best in fourth and Jeff Aikey completed the top five.
Andy Nezworski came into the night with the point lead, started 17th after running third in his "B" feature and finished sixth. Ryan Dolan started last in the field of 24 and ended in ninth.
The defending Deery champion, Kay is now tied with Jay Johnson of West Burlington for 10th on the all-time series wins list. He also ran third in the Hawkeye Dirt Tour feature for Xtreme Motor Sports Modifieds at Maquoketa.
Joel Callahan won Tuesday's $250 Sunoco Race Fuels feature qualifier drawing.
Next on the Deery schedule is the Thursday, July 2 show at Kossuth County Speedway. Touring IMCA Late Models made their one previous appearance at Algona in 2008.
Feature results – 1. Justin Kay, Wheatland; 2. Dan Shelliam, Hazel Green, Wis.; 3. Tyler Droste, Wa­terloo; 4. Joe Zrostlik, Long Grove; 5. Jeff Aikey, Cedar Falls; 6. Andy Nezworski, Buffalo; 7. Jason Rauen, Farley; 8. Don Pataska, Miles; 9. Ryan Dolan, Lisbon; 10. Todd Malmstrom, Silvis, Ill.; 11. Kyle Hinrichs, Swisher; 12. Jeremy Grady, Story City; 13. Tyler Bruening, Decorah; 14. Joel Callahan, Dubuque; 15. Stephan Kammerer, Blue Grass; 16. Sam Halstead, New London; 17. Scott Fitzpatrick, Wheatland; 18. Jon Merfeld, Dubuque; 19. John Emerson, Waterloo; 20. Luke Merfeld, Dubuque; 21. Andy Eckrich, Oxford; 22. Matt Ryan, Davenport; 23. Charlie McKenna, Clear Lake; 24. Ray Guss Jr., Milan, Ill.
1st heat (top three) – 1. Kay; 2. Aikey; 3. Shelliam; 4. Luke Merfeld; 5. Nezworski; 6. Fitzpatrick; 7. Grady; 8. Dolan.
2nd heat – 1. Droste; 2. Callahan; 3. Zrostlik; 4. Ryan; 5. Pataska; 6. Jon Poll, Delmar; 7. Jeff Tharp, Sherrill; 8. Emerson.
3rd heat – 1. Halstead; 2. Hinrichs; 3. Bruening; 4. Kammerer; 5. Brian Beaudry, Lost Nation; 6. Chuck Hanna, Port Byron, Ill.; 7. Darrel DeFrance, Marshalltown.
4th heat – 1. Jon Merfeld; 2. Rauen; 3. Eckrich; 4. Guss; 5. Malmstrom; 6. McKenna; 7. Ryan Claeys, Morrison, Ill.
1st "B" feature (top four) – 1. Luke Merfeld; 2. Kammerer; 3. Nezworski; 4. Fitzpatrick; 5. Beaudry; 6. Hanna; 7. Dolan; 8. DeFrance; 9. Grady.
2nd "B" feature – 1. Ryan; 2. Guss; 3. Pataska; 4. Malmstrom; 5. Poll; 6. Emerson; 7. Tharp; 8. Claeys; 9. McKenna,
Hard charger – Emerson. Provisionals – Dolan, Grady and McKenna.