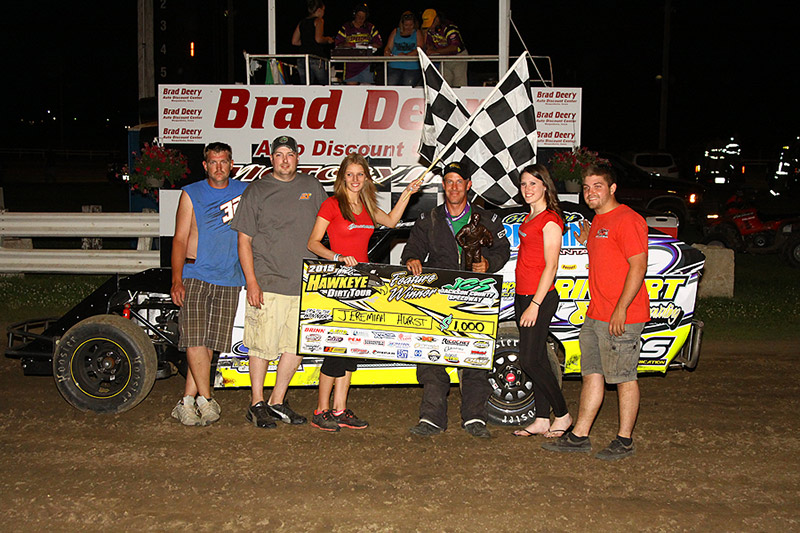 MAQUOKETA, Iowa (June 9) – The margin of Jeremiah Hurst's career first Hawkeye Dirt Tour feature win was measured in inches.
And not very many of them.
Hurst caught Ryan Maitland coming out of the final turn Tuesday at Jackson County Speedway and won the Xtreme Motor Sports IMCA Modified main event by not much more than a bumper.
The $1,000 victory landed him on the ballot for the Fast Shafts All-Star Invitational. Hurst had started ninth, ran second much of the way in a caution-free 25-lapper and went to a higher line to get around Maitland and get the win.
Justin Kay raced from 16th starting to third in his HDT debut. Ben Chapman was fourth while defending series champion Mike Van Genderen moved atop the point standings with his fifth place showing.
Maitland had led 24-plus laps after starting from the pole and withstanding early pressure from Chapman.
The second Hawkeye Dirt Tour event of the week is Thursday, June 11 at Southern Iowa Speedway in Oskaloosa.
Feature results – 1. Jeremiah Hurst, Dubuque; 2. Ryan Maitland, Waterloo; 3. Justin Kay, Wheatland; 4. Ben Chapman, Clarence; 5. Mike Van Genderen, Newton; 6. Mitchell Morris, Eldridge; 7. Steve Johnson, Camanche; 8. Jeff Waterman, Quincy, Ill.; 9. Chris Zogg, New Liberty; 10. Ronn Lauritzen, Jesup; 11. Patrick Flannagan, Cedar Rapids; 12. Kyle Brown, Kellogg; 13. Nick Roberts, Des Moines; 14. David Brown, Kellogg; 15. Tyler Madigan, Peosta; 16. Joel Rust, Grundy Center; 17. Ray Cox Jr., Maquoketa; 18. Andrew Schroeder, Clive; 19. Dennis Betzer, Central City; 20. Thomas Patz, East Moline, Ill.; 21. Bob Dominacki, Bettendorf; 22. Jarod Struss, Davenport; 23. Jake Bowman, Maquoketa; 24. Kenny Kostenbader, Freeport, Ill.
1st heat (top three) – 1. Zogg; 2. Waterman; 3, Struss; 4. Kostenbader; 5. Flannagan; 6. Madigan; 7. Cox; 8. Betzer.
2nd heat – 1. Hurst; 2. Lauritzen; 3. Johnson; 4. Roberts; 5. Kay; 6. Hunter Wilson, Moline, Ill.; 7. Matt Irwin, Maquoketa.
3rd heat – 1. Maitland; 2. Chapman; 3. Kyle Brown; 4. Rust; 5. Derek Thompson, Monroe, Wis.; 6. George Spence III, Sherrard, Ill.; 7. Bowman.
4th heat – 1. Van Genderen; 2. Morris; 3. David Brown; 4. Schroeder; 5. Patz; 6. Joshua Starr, Tipton; 7. Dominacki.
1st "B" feature – 1. Flannagan; 2. Madigan; 3. Cox; 4. Kostenbader; 5. Rust; 6. Betzer; 7. Thompson; 8. Bowman; 9. Spence.
2nd "B" feature – 1. Roberts; 2. Kay; 3. Schroeder; 4. Dominacki; 5. Patz; 6. Wilson; 7. Starr; 8. Irwin.