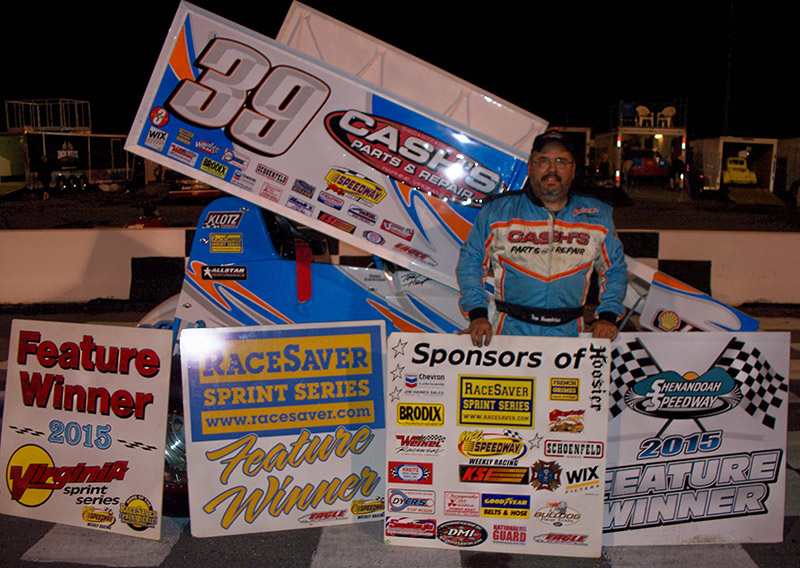 By Jim Haines
SHENANDOAH, Va. (June 6) – Tom Humphries made it two wins in three Virginia Sprint Series events at Shenandoah Speedway on Saturday night.
Humphries took the IMCA Eagle Motorsports RaceSaver Sprint Car tour opener at Shenandoah on April 11, then was part of a three-car tangle in the May 9 show and ended in ninth.
The third time was another charm on the fast asphalt oval as he took the checkers ahead of Jerald Harris and French Grimes.
Charlie Ware and Bill Rice paced the field to green with Rice out first and Anthony Linkenhoker right on his bumper. Lap five had a new leader in Linkenhoker and Humphries in second.
Linkenhoker was smooth in the middle grove but Humphries had to withstand pressure from Grimes and Harris.
Humphries went low and into the lead and Harris took over second on the next lap. Humphries was leading with one to go when Harris got mixed up with traffic at the wrong time and was una­ble to mount a charge.
Feature results –  1. Tom Humphries; 2. Jerald Harris; 3. French Grimes; 4. Anthony Linkenhoker; 5. Brian Lawson; 6. Bill Rice; 7. Tony Harris; 8. Charlie Ware; 9. Chris Ware; 10. Andrew Wroten; 11. Ron Moyers.