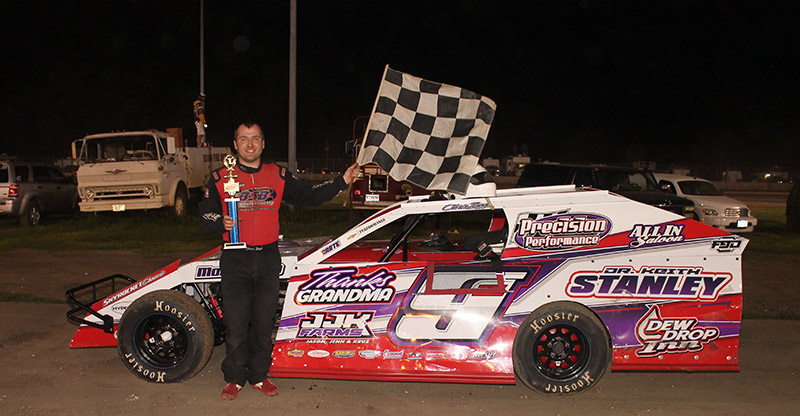 By Mike McGuire
DAVENPORT, Iowa (June 5) – One hundred and fifteen cars and more than 250 laps of green flag racing made for a busy Friday night at Davenport Speedway.
Chris Zogg finally got his 2015 season at Davenport turned around with a victory in the Milan Heat­ing & Air IMCA Modified feature. Zogg led all 20 laps en route to the win. Justin Kay placed second in his first local Modified appearance. Milo Veloz Jr. battled his way to third place.
Kay did double duty and made it back-to-back wins in the Petersen Plumbing & Heating IMCA Late Models. Kay took the lead on lap 13 and never looked back. Nate Beuseling finished second and Chuck Hanna was third.
Double duty was also the theme for the Hawkeye Auto IMCA Northern SportMods. Dustin Crear scored the win in the make-up feature. Crear got the lead from Jake Morris on lap six and led the rest of the way to the checkers. Tony Olson saw his winning streak end with a second place fin­ish. Bryce Garnhart took third.
In the late-night feature, Aaron Hitt held the early lead until he tangled with a lapped car. Jarrett Franzen quickly took over and drove to his first victory at Davenport this season. Crear continued his good night, finishing second. Jake Morris finished third.
Due to increased car counts and the track's desire to be considerate to its neighbors, racing at Davenport Speedway will start at 6:45 p.m. for the remainder of the season.