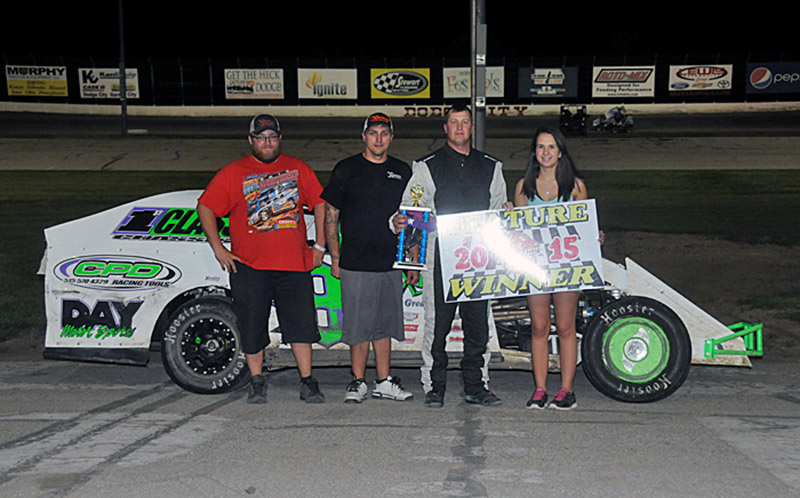 By Lonnie Wheatley
DODGE CITY, Kan. (June 6) – Jesse Richter put a stop to Clay Sellard's run of perfection in Xtreme Motor Sports IMCA Modified action Saturday at Dodge City Raceway Park.
Richter slipped past Joe Cleveland on the third of 20 rounds and then held off late pressure from Cleveland and Cody Gearhart to snare his first local win of the year.
Richter paced the final 18 rounds of the non-stop affair, although Cleveland made one last-ditch effort on the final lap. Working forward from 13th after winning the B feature, Gearhart took third on the white flag lap before trying to make a move for the win on the final circuit.
Clay Money captured IMCA SportMod honors, Michael Pepper snared his third IMCA Sunoco Stock Car win of the season and Cody Williams took the top spot in IMCA Sunoco Hobby Stocks as a total of 120 cars filled the pit area.
Money rallied from 12th to win the 20-lap SportMod main. He needed just nine laps to take the lead away from Matthew Crowell. Money raced to the stripe ahead of Mike Appel, who held off Jeff Kaup for runner-up honors.
Pepper reeled off his third win in four tries by topping the Stock Car 20-lapper. He chased Randy Dowell for nine laps before taking command for keeps at midway.  Pepper was chased to the line by Dowell and B.J. Wagoner.
In the 20-lap Hobby Stock event, Williams made a late move around Matt O'Hair to snare his first local win of the year. Williams beat O'Hair to the line with Cody Davis third.