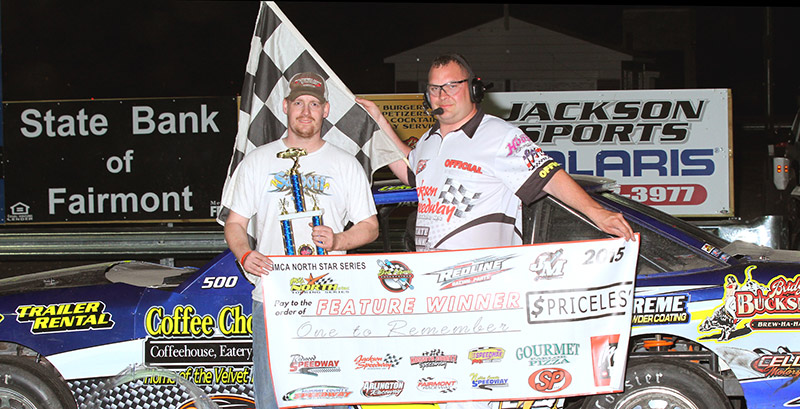 JACKSON, Minn. (June 6) – Three first-time IMCA North Star Touring Series winners rook their turn in victory lane Saturday at Jackson Speedway.
Jason Cummins won his career first Xtreme Motor Sports IMCA Modified tour feature ahead of Mat Hollerich and Jeff Larson.
Luke Sathoff captured his first North Star checkers in the IMCA Sunoco Stock Car main event. Jim Larson was second and third was Dustin Larson.
Megan Sandvig notched her first Mach-1 Sport Compact series win, chased across the stripe by Joe Bunkofske and Blaney Markman.
Now a four-time winner over the course of his tour career, Jason Andrews was fastest in a 20-car field of Karl Chevrolet Northern SportMods. Rounding out the top three were Kyle Steuber and Randy Winter.
And Jeremy Wegner raced from seventh starting to first and the finish for his career second IMCA Sunoco Hobby Stock tour checkers. Jamie Songer and Justin Luinenburg were next in the field of 22.
Different drivers have now prevailed in each of the first four North Star Modified, Stock Car, North­ern SportMod and Hobby Stock features this season.
Modifieds – 1. Jason Cummins; 2. Mat Hollerich; 3. Jeff Larson; 4. Brandon Beckendorf; 5. Derek Green; 6. Denny Anderson; 7. James Slawson; 8. Roger Nielsen; 9. Greg Jacobsen; 10. Dwaine Hanson; 11. Derrick Barglof; 12. Mike Vogelmen.
Stock Cars – 1. Luke Sathoff; 2. Jim Larson; 3. Dustin Larson; 4. Andy Altenburg; 5. Roger Ver­doorn; 6. Levi Feltman; 7. Gary Mattison; 8. Jared Green; 9. David Wickman; 10. Jake Masters.
Northern SportMods – 1. Jason Andrews; 2. Kyle Steuber; 3. Randy Winter; 4. Dan Paplow; 5. Lyle Sathoff; 6. Matt Looft; 7. Tony Rialson; 8. Ben Chukuske; 9. Danny Myrvold; 10. Jared Ny­troe; 11. Eric Kinnetz; 12. Bruce Egeland; 13. Justin Schuder; 14. Carter Shumski; 15. Tony Voss; 16. T.J. Tweedt; 17. Chance Larson; 18. Scott Espey; 19. Nathan Chukuske; 20. Drew Barglof.
Hobby Stocks – 1. Jeremy Wegner; 2. Jamie Songer; 3. Justin Luinenburg; 4. Brandon Nielsen; 5. Trevor Holm; 6. Justin Nehring; 7. Tyler Pospisil; 8. Bryant Johnson; 9. Ryan Michelson; 10. Marc Janssen; 11. Austin Jahnz; 12. Malik Sampson; 13. Corey Schreiber; 14. Merle Bass; 15. Casey Iehl; 16. Kyle Schley; 17. Logan Kelly; 18. Chad Taylor; 19. Alan Stammer; 20. David Kale; 21. Megan Sandvig; 22. Drew Barglof.
Sport Compacts – 1. Megan Sandvig; 2. Joe Bunkofske; 3. Blaney Markman; 4. Nikki Taylor; 5. Nathan Sukalski; 6. Bubba Brown; 7. Robert Pottratz; 8. Colby Lyons; 9. Tori Groebner.