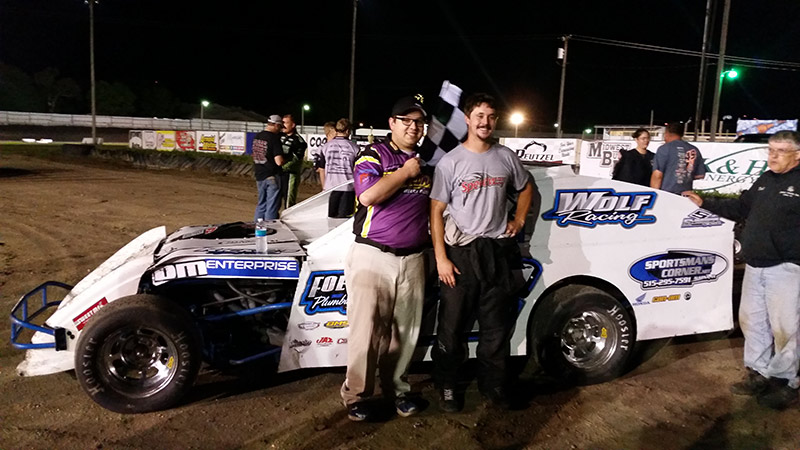 By Greg Grabianowski
ALGONA, Iowa (June 4) – Five IMCA drivers wrote their name in the record book as winners of the first North Star Touring Series features held in Iowa Thursday night.
Austin Wolf, Derek Green, Jared Boumeester, Brandon Nielsen and Nate Coopman were main event winners in front of the biggest crowd of the season at Kossuth County Speedway.
Wolf took charge in the Xtreme Motor Sports IMCA Modified headliner after early leader Shane DeMey got into the guardrail on lap eight. Kyle Brown ran out of laps and settled for second while Eric Dailey ended in third.
After two early restarts, Green motored to the high side, took the lead from Dan Mackenthun and checked out on the rest of the IMCA Sunoco Stock Car field.
Jake Masters prevailed in a four-car battle for second. Third went to Kevin Opheim.
After taking the lead on the 10th circuit, the 10th starting Boumeester led the final five laps in the Karl Chevrolet Northern SportMod contest. Nate Whitehurst and Matt Looft completed the top three.
The IMCA Sunoco Hobby Stock feature ran caution free. Cody Hubbell and Chanse Hollatz took turns up front before Nielsen took over.
He held off a late challenge by Mike Schadendorf, who ended up second. Shannon Anderson was third.
Coopman continued his series and local domination of the Mach-1 Sport Compacts. Runner-up was Jay Devries and Jacob Kofoot finished third.
Wolf and Nielsen were both first-time tour winners while Green and Boumeester each won for the second time. Coopman's victory was his third in as many North Star events this season and ca­reer 24th.
The first 32 tour events held since 2012 were all at tracks in Minnesota.
Charlie McKenna was the IMCA Late Model feature winner at Algona.
Feature Results
Modifieds – 1. Austin Wolf; 2. Kyle Brown; 3. Eric Dailey; 4. Mike Van Genderen; 5. Jeremy Mills; 6. Troy Swearingen; 7. Mike Jergens; 8. Dustin Smith; 9. Rob Hughes; 10. Josh Ruby; 11. Jesse Hoeft; 12. Tim Ward; 13. Tad Reutzel; 14. Mat Hollerich; 15. Chris Rakness; 16. Cole Hall; 17. Ryan Watnem; 18. Shane DeMey. 
Stock Cars – 1. Derek Green; 2. Jake Masters; 3. Kevin Opheim; 4. Andy Altenberg; 5. Dan Macken­thun; 6. Calvin Lange; 7. John Wiemann; 8. Craig Berhow; 9. Dan Hanselman; 10. Luke Sathoff; 11. Blake Cole; 12. Bruce Wickman; 13. Kellie Schmit; 14. Wayne Landheer; 15. Cory Oftedahl; 16. Chad Palmer; 17. David Wickman.  
SportMods – 1. Jared Boumeester; 2. Nate Whitehurst; 3. Matt Looft; 4. Cody Knecht; 5. Nick Meyer; 6. George Nordman; 7. Clay Evans; 8. Ben Schultze; 9. Jake Simpson; 10. Doug Cook; 11. Colby Fett; 12. Ryan Hiscocks; 13. Jeramie Faber; 14. Chris Myhre; 15. Matthew Hanson; 16. Shawn Ritter; 17 Drew Fett; 18. George Gilliland; 19. Justin DeBoer; 20. Brandon Ostwald; 21. Kent Haugland; 22. Bill Wegner; 23. Tony Rialson.
Hobby Stocks – 1. Brandon Nielsen; 2. Mike Schadendorf; 3. Shannon Anderson; 4. Jamie Songer; 5. Jeremy Wegner; 6. Malik Sampson; 7. Cody Hubbell; 8. Nate Harris; 9. Justin Luinen­burg; 10. Bryant Johnson; 11. Dennis Theesfeld; 12. Austin Hauswirth; 13. Chanse Hollatz; 14. Micah Lavrenz; 15. Bryce Sommerfeld.
Sport Compacts – 1. Nate Coopman; 2. Jay DeVries; 3. Jacob Kofoot; 4. Kaytee DeVries; 5. Dalton Kron; 6. Joe Bunkofske; 7. Oliver Monson; 8, Justin Nielson; 9. Dalton Lewis; 10. Lucas Parsons; 11. Tori Groebner.
Late Models – 1. Charlie McKenna; 2. Todd Cooney; 3. Jememy Grady; 4. Gabe Umbarger; 5. Paul Conrad; 6. Bill Crimmins; 7. Ryan Griffith.